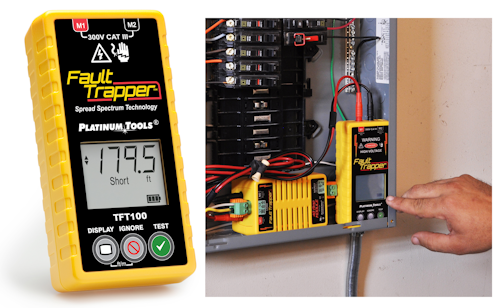 Test equipment: Platinum Tools, a provider of solutions for the preparation, installation, and hand termination of wire and cable, announces the launch of the new Fault Trapper™ smart tester.
"The time of guessing about circuit breaker tripping issues is now over," said George Jang, Platinum Tools product manager. "With Fault Trapper, you can now detect the type of fault, timestamp when the fault happens, and locate the position of an electrical 'event' that caused intermittent/persistent circuit breaker trips and No Fault Found (NFF) conditions…the critical information needed to reduce call backs for circuit breaker trips."
The TFT100 Fault Trapper monitors live circuits to detect faults when traditional methods fail to find them. The device runs on the power from the circuit until the circuit breaker trips. It captures time and distance to opens, shorts, and arc faults, saving the event information in memory for later investigation. The last faults can be viewed off-line using battery power.
"The Fault Trapper is very unique as it can detect faults that both trip and don't trip circuit breakers," Jang continued. "If the circuit breaker trips, the backup battery powers the Fault Trapper to allow for an orderly shutdown. The last faults can be viewed using the battery power."
The Fault Trapper tester allows unattended monitoring of dedicated circuits for NFF conditions. Just set it up, press the Start button to begin monitoring and walk away. Come back later or the next day to find out the why-when-and-where of circuit breaker trips and NFF conditions."
Features and specifications of the TFT100 Fault Trapper include:
• Allows unattended monitoring to identify electrical events
• Identifies opens, shorts, and arc faults
• In-line monitoring of dedicated circuits up to 300 VAC and 40 amps
• Fault location reported as distance from Fault Trapper™ in feet/meters
• Simple user interface - backlit LCD display and three button operation
• Back-up battery allows capture of breaker trips/unpowered display of results
• Quickly plugs in with no cutting, stripping, or splicing; plug in with existing wiring
• Runs on in-line power in monitor mode
• Easy installation; connects to a 120V/240V AC circuit between the tripped circuit breaker and the load
• Small; fits inside the electrical panel for extended monitoring
• TUV-tested, CE-compliant
"Now you can find intermittent faults that trip circuit breakers by detecting the fault type and location," said Jang. "When other testers are telling you 'No Fault Found', you can find them with the Fault Trapper."
About Platinum Tools
Platinum Tools, founded in 1997, was created based upon two very simple objectives. First, develop the absolute best possible solutions for the preparation, installation, and hand termination of wire and cable. Second, implement an operational infrastructure that can deliver these products in an efficient, timely, and high quality manner.
All of our products must absolutely satisfy three critical benchmark criteria…utility of function; quality of function; and economic value. Our people are our company. They, too, must be focused on and work to satisfy three critical benchmark criteria…customer satisfaction; product knowledge and expertise; and willingness to learn and adapt.
For more information about Platinum Toolsor other products, click here to go to Utility Products' Buyers Guide.