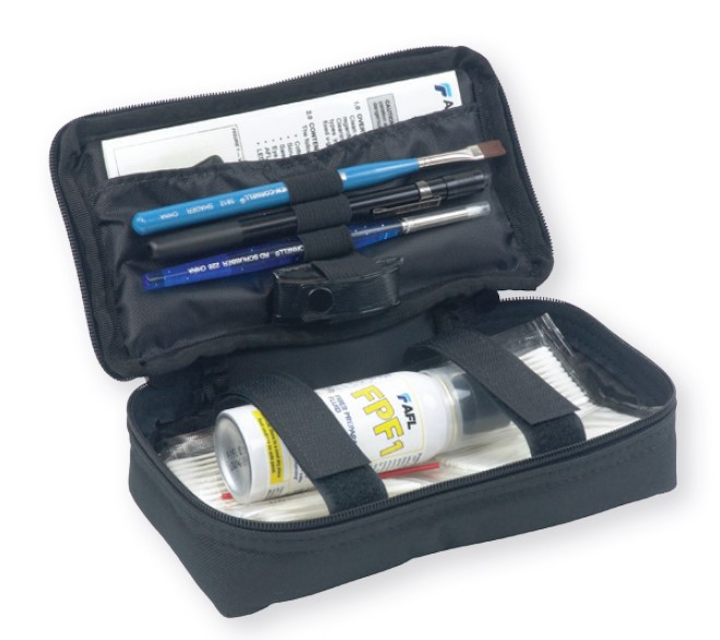 Utility equipment: Fiber Optic Center Inc. (FOC), a leader in distributing fiber optic components, equipment and supplies and recognized as one of the most technically savvy fiber optics companies in the world, announces the addition of Splicer V-Groove Cleaning Kit to their website.
The AFL Splicer V-Groove Cleaning Kit integrates eight components into an affordable and effective inspection and cleaning solution for any fusion splicer.
A frequent topic at FOC both in the online AskFOC tool and on location with customers is the challenge with contamination. Contamination in the v-groove of the splicer is still a primary source of trouble for the splicing technician. This is especially problematic when splicing with a fixed v-groove fusion splicer. Environmental contamination, such as dust, dirt, and fiber coating debris, as well as, the silica deposits generated during the fusion process eventually find their way to the surface of the v-groove. This contamination will offset the fibers and degrade performance. To help control this problem, a disciplined cleaning regimen and specific tooling is required to ensure the splice is right the first time.
FOC has a quick link to their website now showing information on the Splicer V-Groove Cleaning Kit at: bit.ly/1OVtfLp
To solve cleaning needs, the AFL Splicer V-Groove Cleaning Kit integrates eight components into an affordable and effective inspection and cleaning solution for any fusion splicer. Small and lightweight, it fits easily into transit case.
Kit Includes
• Scrubber Brush with stiff tapered nylon bristles and Sweeper Brush with soft nylon bristles
• Eye Loupe with 3X to 12X magnification
• LED Pen Light with momentary or constant on switching
• Cleaning Fluid that is nonflammable and environmentally safe and Lint-free Cotton Swabs
• Instruction Sheet with illustrations and Canvas Carrying Case
At SPIE Photonics West, FOC will have the Splicer V-Groove Cleaning Kit at their booth, #5048.
In addition to the Photonics West event, FOC will be offering technical discussion, demonstrations and the Splicer V-Groove Cleaning Kit on display at OFC in Anaheim at booth #2308 just inside the main entrance of the event.
About Fiber Optic Center, Inc.
Fiber Optic Center (FOC) is an international high technology sales, marketing, distribution, manufacturing and consulting company. FOC has several areas of specialization and expertise, in which they are the industry leader, making them the preferred choice for many of the world's fiber professionals. In these key technology areas, FOC is "at least as technical as the manufacturer" about the products they sell. FOC also strives to "make the business part easy," offering outstanding and personal customer service, low or no minimum purchase order values, and from-stock delivery on industry-leading products and technology. Their main focus is assisting cable assembly houses with supplies, equipment, consulting and technical support in the manufacturing and testing of fiber optic cable assemblies. FOC is the industry connection to the most innovative optical products, technologies and technical experts who integrate their manufacturing knowledge and vast experience into customers' worldwide operations.
For more information about FOC or other products, click here to go to Utility Products' Buyers Guide.