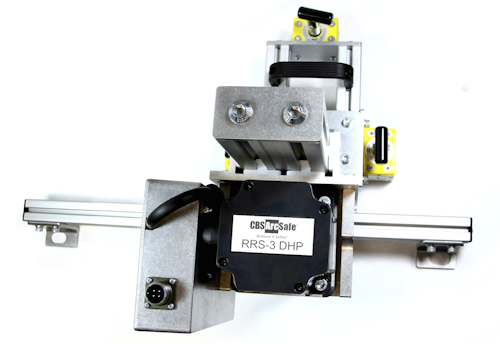 Utility equipment: CBS ArcSafe® RRS-3 DHP/DVP (S) single-application remote racking system (RRS-3) is designed to operate the Westinghouse Type DHP/DVP (S) circuit breakerwithout having to make any modifications to existing electrical equipment thanks to CBS ArcSafe's magnetic latching system.
The lightweight, portable RRS-3 DHP/DVP (S) allows technicians to remotely install and remove a breaker while standing up to 300 feet away. The RRS-3 DHP/DVP (S) is compatible with Type DHP/DVP circuit breakers with ratings of 1200-2000 A including 50DHP75, 50DHP250, and 50DHP350.
Typical applications for the DHP/DVP breaker include electric utility systems, industrial plants, commercial buildings, municipal pumping stations, transportation systems, pipeline stations, and unit substations. Designed, manufactured, and assembled in the USA, all RRS-3 units are portable, fast, and easy to set up, offer mechanical and/ or electrical safety protection, are adjustable to fit unique electrical equipment configurations, reduce the requirements for personal protection equipment (PPE), and help customers with NFPA 70E arc-flash safety compliance.
Optional features include 25-foot extension cables, 24 V DC LED light, wireless video camera system with LCD monitor, and rugged protective case assembly.
SPECIFICATIONS
• WEIGHT: 28 lbs
• DIMENSIONS: 20.0"W x 18.0"H x 13.6"D
• POWER CONSUMPTION: 200W
• OPERATING DISTANCE: 25-300 feet
• COMPATIBILITY: Type DHP/DVP (S), includes 50DHP75, 1200 A; 50DHP250, 1200-2000 A; 50DHP350, 1200-2000 A
• CONTROL/POWER SOURCE: CBS ArcSafe® RSO-IV control console
OVERVIEW
• Remote operation from up to 300 feet
• Lightweight, portable, and adjustable
• Simple setup; no equipment modification required
• Reduces or eliminates need for arc-flash hazard suits
• Designed, manufactured, and assembled in the USA
For more information about CBS ArcSafeor other products, click here to go to Utility Products' Buyers Guide.