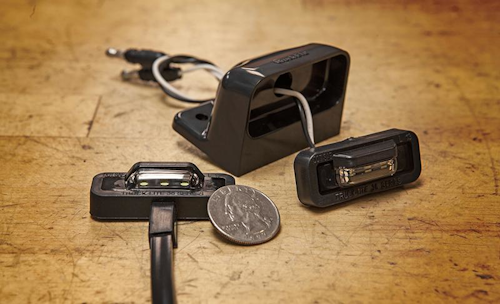 Falconer, NY -- Truck accessories: Truck-lite Co., LLC, a provider of heavy-duty lighting and visibility solutions, has expanded its current Flex-Lite LED product line with the release of the new LED 36 Series License Lamp.
The new LED 36 Series License Lamp adheres directly to the mounting surface through the use of heavy-duty adhesive backing, with an easy-to-install, peel-off liner, eliminating the need for tools during installation. This state-of-the-art adhesive is made with industrial strength compounds and endured rigorous pressure washing tests that showed superior performance. Truck-Lite's unique adhesive was also tested for extreme temperature tolerance. The LED 36 Series License Lamp maintained its locked seal in temperatures ranging from -40°C to 85°C.
There are two lamp options to choose from: one lamp has wires that exit from the side (PN# 35145C) and the other has wires that exit from the rear (PN# 36140C). The side-exiting wire lamp provides a license lamp solution that does not require mounting brackets or installation screws. Although the rear-exiting wire lamp can also be directly mounted to the surface, it also offers gray and black brackets, if preferred.
"In my 30+ years in this industry, I have never seen a more compact, more versatile license lamp product..." said Greg Jordan, National Sales Director for Truck-Lite.
Truck-Lite proudly backs this durable license lamp with a limited lifetime warranty. When properly mounted, the lamp is designed to meet or exceed requirements of
CMVSS/FMVSS - 108. The electronics, which offer multi-volt technology that adjusts from 10 to 30 volts, are completely sealed in epoxy to resist damage caused by moisture, corrosion, shock, and vibration. Its durable 20-gauge wires measure 9.25" long with 0.80 bullet connections. The external optic is uniquely small. Truck-Lite's LEDs offer more than just quality assurance; they also draw much less current and are rated at 100,000 hours, saving money on unnecessary replacements.
Truck-Lite's three-quarter inch license lamps include: clear lamp with side exit wires (36145C), clear lamp with rear exit wires (36140C) and are now available to order. The lamps are also available for purchase as a kit: clear lamp and gray bracket (36041C), clear lamp and black bracket (36042C). Individual brackets can also be ordered: gray (36710) or black (36711). Additional product information is available by visiting www.truck-lite.com or by contacting your local Truck-Lite representative.
For more information about Truck-Lite or other products, click here to go to Utility Products' Buyers Guide.