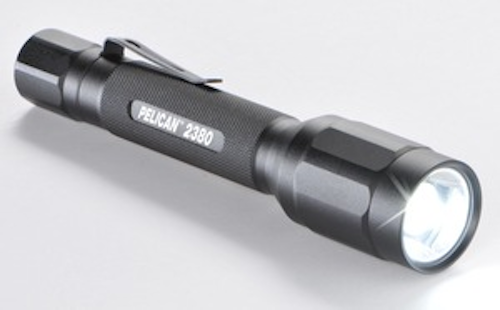 TORRANCE, CA – Electrician tools: With a variety of uses in mind, Pelican Products Inc, a provider of advanced lighting systems and high-performance protective case solutions, has introduced the Pelican ProGear 2380 LED flashlight.
The lightweight 2380 LED flashlight weighs in at 6.6 ounces with batteries and provides extreme versatility, offering a spot beam to flood beam in a matter of seconds. Using patented Fraen dual reflector optics and Slide-Beam technology, the flashlight is the perfect compact lighting solution for a wide variety of users.
With three modes: high (159 lumens), low (23 lumens) and momentary, the 2380 LED is powered by two AA batteries (included) and shines a bright, crisp beam for 3 hours and 15 minutes (high mode). To easily determine battery level, 6 tail cap clicks set the flashlight in indication mode. It will then signal 1-4 blinks (4 blinks = 80-100%), specifying battery level.
Its Type II Hard Annodized aluminum construction makes it extremely durable and the anti-slip knurled pattern allows for all-weather usage. Additionally, the 2380 LED offers an anti-roll shroud / tail cap design and a removable clip for easy pocket storage and transport.
For more information about Pelican Products or other products, click here to go to Utility Products' Buyers Guide.