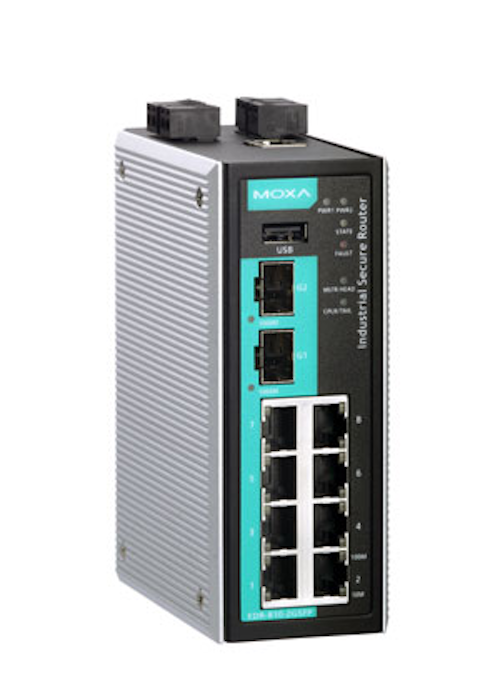 Brea, CA – Safety equipment: The convergence of IT and industrial automation networks has created new opportunities to improve productivity, but has also heightened security threats posed by malicious hackers, worms and viruses. The standard solution has been to use an industrial secure router that protects the control network in conjunction with a variety of switches behind it to complete the communication network. In addition to requiring additional configuration and power for multiple devices, this solution sometimes introduced issue with compatibility.
Moxa, a provider of hardened networking, communication and computing solutions, has introduced a new solution to address these issues: the EDR-810, a new Gigabit-performance secure router with built-in managed switch. Integration of security and networking functionality into a single device means additional savings in deployment cost and effort. Furthermore, this solution helps reduce power consumption, panel space and is priced at the same level as a typical managed switch only.

The EDR-810 is an industrial-grade 8+2G secure router with Firewall/NAT/VPN and managed L2 switching functions, which allows it to transmit data efficiently while protecting the network and critical devices from cyber attacks. Firewall policies can control network traffic between different trust zones, and Network Address Translation (NAT) shields the internal LAN from unauthorized activity from outside hosts which is a much more secure architecture than just NAT alone. Additionally, the EDR-810-2GSFP-VPN adds Virtual Private Networking (VPN) which is designed to provide users with secure communication tunnels when accessing a private network from the public Internet.

"According to the US government ISC-Cert (Industrial Control Systems Computer Emergency Response Team) organization, securing your industrial network is more critical than ever," said Jim Toepper, Product Marketing Manager for Moxa's Industrial Switch and Routing division. "An effective way to address this concern in your network is to integrate managed switches that also have firewall and NAT capability."
Targeted at networks that need secure remote access or remote monitoring of field assets, such as pumping/treatment systems in water stations, DCS systems in oil and gas applications, and PLC/SCADA systems in factory automation, the EDR-810 creates an electronic security perimeter to protect critical cyber assets. To secure Ethernet fieldbus networks that use Modbus TCP, the EDR-810 performs deep Modbus TCP protocol packet inspection using PacketGuard™ technology.
Unlike non-industrial firewalls that will malfunction within harsh environments, the EDR-810 withstands hazards such as high EMC interference and extreme temperatures from -40 to 75°C. (-40 to 165°F).
For more information about Moxa or other products, click here to go to Utility Products' Buyers Guide.