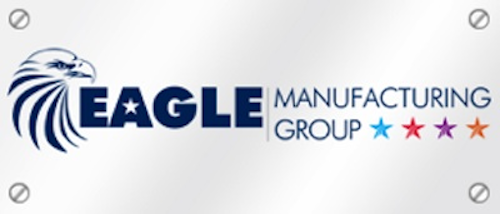 Miami—US Holdings Inc. has announced a new name for its holding group—Eagle Manufacturing Group, a collection of industry leaders with municipal construction services and manufacturing products that have helped the company evolve over the past nearly 100 years. The announcement was made at The Precast Show 2013 in Indianapolis, IN, the National Precast Concrete Association's (NPCA) annual tradeshow and conference.

The name change (to Eagle Manufacturing Group) brings better clarity to the company's corporate structure the relationship of the parent company to its operating companies:
US Foundry and Manufacturing Corp., USF Fabrication, United Concrete Products and Eagle Metal Processing & Recycling, as well as pays homage to its tenured history.

Chief Executive Officer Ronn Page said in a message to employees that the name change is "an important milestone" in the evolution of the company. "It does not signify an end or a beginning but rather, it marks how far we have come and gives us a framework for how much further we aim to go."

New Name—New Look
Eagle Manufacturing Group and its family of brands each unveiled a company logo that is anchored by an eagle head, which symbolizes the strength and pride that is representative of the unwavering American courage and freedom of the Company's Chairman Alex DeBogory, Jr. More importantly, it is a bold reminder of its "Made In America" product lines.

Each Company within the group has its own identity—each color signifying the diversity, boldness and vitality that represents each company's established position in the industry and their collective future as an ever—evolving family of brands. The typography and placement of assets are strategically set to show a more modern, forward-looking, consumer-facing brand.

"Eagle Manufacturing Group is proud of this new look, which visually expresses our tradition of excellence and strength as an industry leader," said Page. "We have evolved into a modern, sophisticated, multi-faceted company, and today we reflect this in our brand."

Enhanced Websites
In addition to the brand identity package, each company launched a newly designed website with enhanced functionality to better meet customers' municipal construction manufacturing needs. The insights used to enhance the websites leveraged feedback received from stakeholder surveys, interviews and expert insight.

The enhanced sites showcase the Company's new, modern sophisticated look-and-feel, as well as more user-friendly features that make them easier to navigate—from a "My Projects" section where users can customize their product requests to a Live Chat feature that prompts users to field questions and inquiries that are routed to a designated company representative. As importantly, the sites are now connected through overarching technology that links each site to the main Eagle Manufacturing Group website.

For more information about Eagle Manufacturing Group or other construction services, click here to go to Utility Products' Buyers Guide.