Construction equipment: Vermeer pneumatic piercing tool
Vermeer introduces new utility equipment products to its pneumatic piercing tool line-up—moving-head design and air-on reverse help enhance production.


Jan 31st, 2013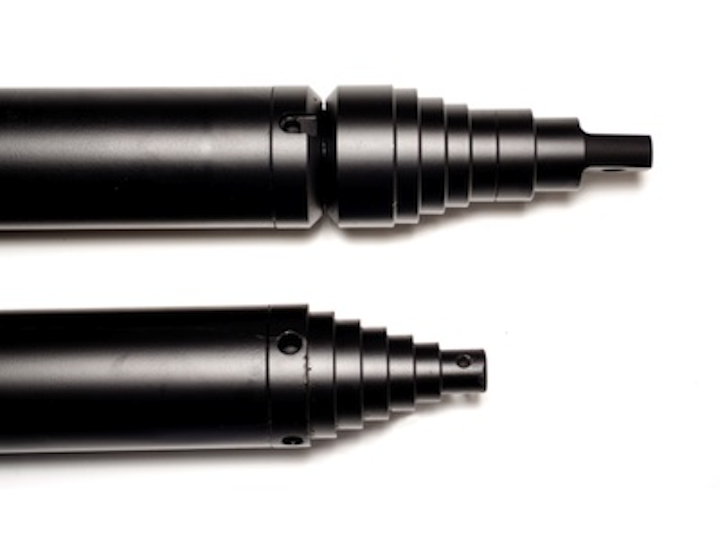 Ella, Iowa — Construction equipment: Vermeer introduces three new products to its pneumatic piercing tool line-up. The Vermeer Hole Hammer pneumatic piercing tool is a powerful and economical solution that can operate in a full range of soil conditions and applications, plus innovative features provide exceptional control and easy start-up.

A moving-head design provides full striking force of the piston to the head of the tool pulverizing stones into the surrounding soil. The residual energy generated is used to help the tool body travel through the compacted bore path. This results in more accuracy in tough soil conditions and reduced tool deflection.

It also incorporates a mechanical reset for the head assembly, helping ensure each blow delivered compacts soil in front of the tool to increase production and accuracy. Because Hole Hammer tools feature a mechanical spring reset design, the head fits tightly to the body of the tool, resulting in an easy and smooth-starting tool.

A ribbed tool body provides additional tool grip for traction in loose soils, helping achieve forward impact on each blow. This provides for maximum tool power, strong forward thrust and reduced tool swimming for more accurate bores. Inside the body tube are precision-fitted components that reduce seal wear, overall tool maintenance and operating costs.

Two head assembly designs are offered, helping increase versatility within a single tool purchase. Contractors can purchase one tool and change the head ‹ standard replaceable or moving-head assembly ‹ as they move among varying ground conditions. The standard replaceable head is used in conditions where production of 1-foot per minute (0.3 m/min) is observed. In rocky soil conditions or when production appears to be diminishing, the contractor can install the moving head assembly to achieve better production and improved accuracy.

For more information about Vermeer or other pneumatic tools, click here to go to Utility Products Buyers Guide.