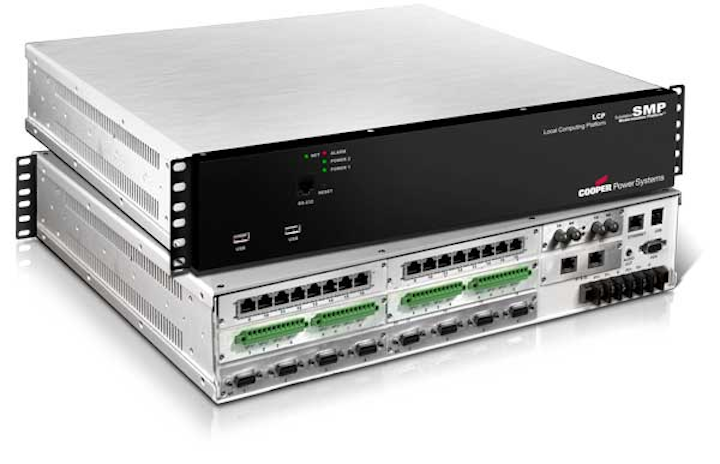 Waukesha, WI -- Power management company Eaton announced that its Cooper Power Systems division is offering end users the ability to run many types of substation application software programs with its new SMP Local Computing Platform (LCP). This powerful substation-hardened computer allows users to maximize uptime, and it serves as an ideal platform for running Eaton's Cooper Power Systems division's Yukon Visual T&D Substation Human-Machine Interface (HMI). The latest addition to the family of feature-rich and field-proven substation automation solutions, the SMP LCP is also designed to withstand harsh environments while providing increased reliability over other alternatives.

"We have deployed thousands of SMP gateways for utilities around the world helping to enhance system reliability, asset and employee productivity, and overall grid security," said Benoit Masson, senior global product manager, Eaton's Cooper Power Systems division. "The addition of the SMP LCP demonstrates our ongoing investment in end-to-end smart grid products and solutions, and reinforces why we are a trusted, long-term partner for growth."

The new SMP LCP is a robust, secure and flexible computing platform that allows end users to run very demanding utility substation automation applications. It combines the Yukon Visual T&D and Yukon IED Manager Suite enterprise software solutions with the SMP 16, SMP 4/DP, SMP/IO and now the LCP, to offer utilities the most comprehensive and evolved smart grid substation automation solution for security, event retrieval and equipment configuration management.

The SMP LCP has been designed, built and tested to meet or exceed International Electric Code (IEC) 61850 and Institute of Electrical and Electronics Engineers (IEEE®) Std 1613 substation specifications for electronic equipment.

For more information about Eaton or other products, click here to go to Utility Products' Buyers Guide.