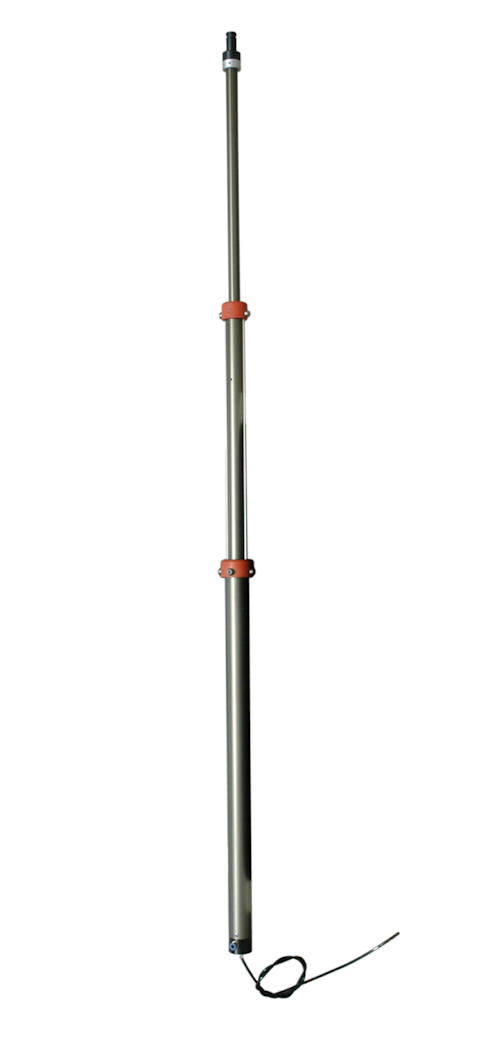 Utility supplies: The PLM-7-NAC Pneumatic Light Mast from Larson Electronics is a mini-tower design that gives operators the ability to very quickly and easily deploy lighting, cameras, speakers and other devices and elevate them to heights up to 7.2 feet of elevation. This tower is designed for rugged use and high stability, with heat-treated aluminum tubing used for the main body of the mast assembly.
The light tower is comprised of three sections that collapse into each other for easy transport. The tower is extended to its full 7.2 feet of height using compressed air that can be provided by a user-supplied compressor. To collapse the tower the user simply loosens a release valve located at the bottom of the tower, which gently lowers the assembly to its minimal 3.3 foot height.
The tower assembly comes prewired with a 3 wire harness that routes through the interior of the mast for protection against chafing and pinching and ends in 12 inch pig tails at the top and bottom for easy connection to power sources and devices. The top of the mast is fitted with a locking mounting plate that allows the easy attachment of lights, cameras, speakers and similar devices which can gain better coverage of an area from elevated height. This tower is very stable and can support 30 lbs of equipment even in heavy winds. The base of the tower is fitted with a predrilled mounting plate, letting users securely attach this tower to truck beds, trailers, and just about any solid and secure flat surface capable of supporting the stresses of a small light tower.
For more information about Larson Electronics or other products, click here to go to Utility Products' Buyers Guide.