Label printer: Handheld labeling tool from Brother Mobile Solutions
Utility equipment: Brother Mobile Solutions unveils PT-E300® Labeling Tool, a new generation of handheld industrial labeling solutions. Latest addition to the P-Touch EDGE line offers smart, intuitive features and optimal flexibility to help simplify labeling for contractors.
Sep 13th, 2013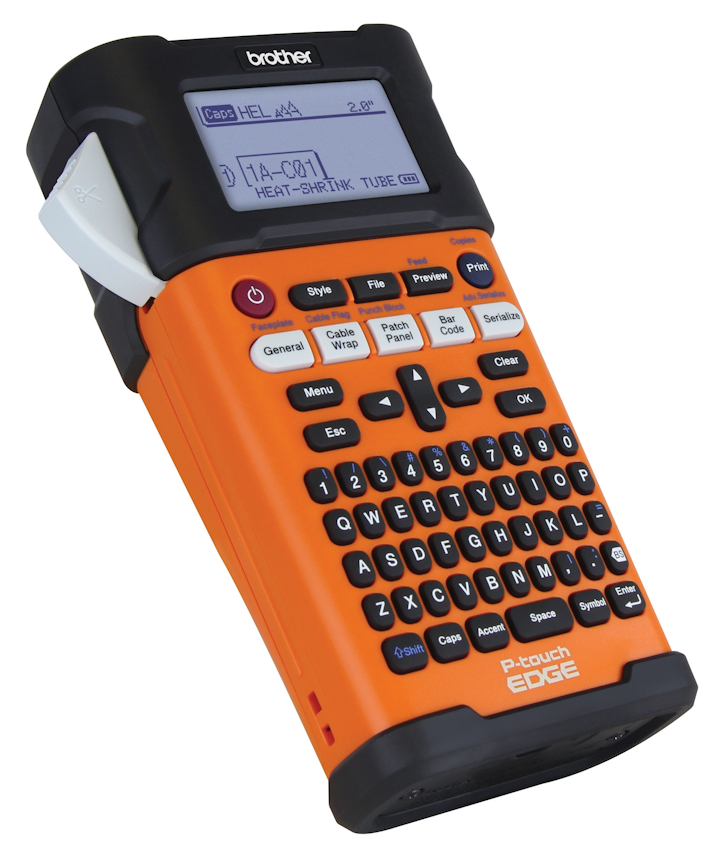 Broomfield, CO -- Utility supplies: Brother Mobile Solutions, Inc. (BMS) a wholly-owned subsidiary of Brother International Corporation and provider of products for the mobile workforce, introduced its PT-E300® labeling system. The product signifies a new generation of industrial handheld labeling tools designed to meet the diverse needs of contractors and IT professionals in the telecom / datacom, electrical, outside plant, security and audio visual industries.

As the latest member of the Brother popular P-touch EDGE® family of industrial handheld labeling tools, the PT-E300 was designed from the ground up to incorporate smart features and a high degree of flexibility and versatility to accommodate virtually any labeling application. In addition, its QWERTY-style keyboard and intuitive navigation make it exceptionally easy to use in creating legible, long-lasting professional labels with just a few keystrokes. And to accompany the PT-E300, Brother introduces the all new HSe Tube heat shrink media in black text on white format in sizes designed to easily mark cables from 1.7mm to 10.6 mm in diameter (only for PT-E300, will not work in other models).

In addition to the new HSe Tube heat shrink media, the PT-E300 will accommodate Brother HGetapes that come in an easy-to-load, drop-in cartridge containing all the necessary components to print laminated labels. Using the innovative Brother laminating thermal transfer printing engine with smart sensing technology, the PT-E300 creates automatic imaging settings to print near-perfect laminated labels every time--including the ability to produce UL recognized labels that withstand fading, abrasion, extreme temperatures, harsh chemicals and moisture.

"We believe one of the greatest advantages of the PT-E300 labeler is its easy operation," said David Crist, Senior Vice President, Sales and Marketing for Brother Mobile Solutions. "It's designed to just be picked up and used, without going through an extensive learning curve. Just press a few keys to select the desired label type and a few parameters and you're ready to print. For busy contractors and installers, especially those using the new ANSI/TIA labeling standards, this is a huge timesaver."

A well labeled project is the mark of a professional, and the PT-E300 was designed by pros, for pros," added Ravi Panjwani, Vice President of Marketing and Product Management for Brother Mobile Solutions. "It conforms to the telecom, electrical, AV and security installers' workflow and makes it really simple to create great looking ANSI/TIA standard, serialized or barcode labels on demand."

Additional features of the new PT-E300 industrial labeler include:

• Prints Rugged Laminated Labels – Innovative technology prints polyester (PET) labels and laminates each label automatically, encapsulating the print between two protective layers to ensure longevity.
• Prints More Characters Per Label – New font sizing technology enables printing clear, readable characters that conform to short and long ANSI / EIA / TIA-606 identifier format as well as UL standards.
• Advanced Alpha and Numeric Serializing – Prints a number and / or letter automatically incremented on a single or over multiple labels.
• Large Easy-to-Read LCD display ‒Large back-lit display show all label design settings at a glance, including label application icons and print preview.
• Faster Printing Speed – New mechanism design is compatible with HGe tape and can print labels up to two times faster than previous Brother models.
• Multi-lingual User Interface – Menus and navigation messages can be configured in 20 different languages, making the system user friendly for virtually everyone on the crew.
• HGe and TZe Tapes – Compatible with both HGe and TZe varieties of P-Touch tapes that offer adhesive and color choices for virtually any labeling application. Heat shrink tubing is also available.

The Brother PT-E300 comes with a two-year limited exchange warranty, toll-free customer service and complimentary technical support, all part of the Brother pledge to make high quality, reliable products.
For more information about Brother Mobile Solutions or other products, click here to go to Utility Products' Buyers Guide.