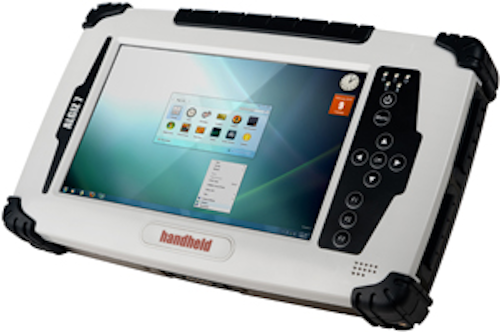 Utility equipment: Handheld, a fast-growing manufacturer of rugged mobile computers, PDAs and smartphones, announced the launch of the new version of its Algiz 7 rugged tablet computer. The updated Algiz 7 is considerably faster than its predecessor, with better storage capacity, improved security and quicker communication capabilities.
The ultra-rugged Algiz 7 tablet PC is small, light and fast, with multiple connectivity options and a wide range of functions, ideal for field workers demanding a super-durable product that is tough and powerful, yet light and easy to work with. The Algiz 7 meets stringent MIL-STD-810G military standards for withstanding humidity, vibrations, drops and extreme temperatures, and with its IP65 rating it keeps dust and water out as well.

The new Algiz 7, which starts shipping today, features the following improvements from earlier versions:

• A fast and powerful N2600 1.6 GHz Dual-Core Intel ATOM processor.
• More memory, with 4 GB of DDR3 RAM.
• Better storage, with a 128GB SSD SATA II with recovery partition.
• Two full mPCIe slots for improved flexibility.
• Ethernet 10/100/1000 (Gigabit).
• Added data security with TPM chipset board (chip 1.2).
• An updated version of the wireless Gobi 3000 technology for higher communications speed.
• A 5-megapixel camera.
• Antenna diversity (two antennas) for improved coverage.

"We've made significant improvements to the new Algiz 7," said Jerker Hellström, CEO of Handheld Group. "Better storage, a much faster processor, improved security, a better camera and better communications are some enhancements and we've kept the price point the same as for the previous version of the Algiz 7. This product should remain the tablet of choice for anyone looking for portable, professional field performance."

For more information about Handheld or other products, click here to go to Utility Products' Buyers Guide.