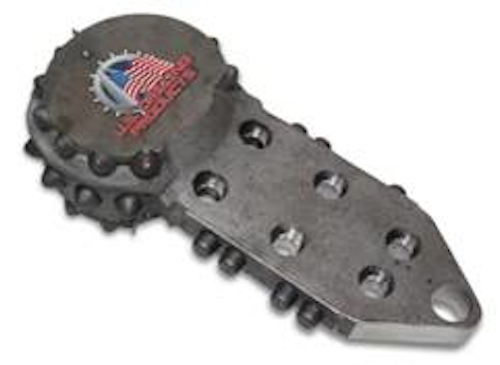 St. Louis, MO – Utility equipment: Manufactured in the United States from the toughest wear-resistant tungsten carbide, U.S. Drilling Products' new Directional Underground Boring Bit is gaining attention for its rock-busting capabilities.

Ideal for creating six-inch underground, horizontal pathways for telecommunication, gas, cable and other utility lines, U.S. Drilling Products' durable Directional Underground Boring Bit is saving contractors valuable time and money on the job site:

• Bores through solid rock.
• Reduces number of hours needed to complete any project.
• Reduces equipment rental, fuel and labor costs.
• Increases project opportunities.
• Reduces environmental impact.

See the Directional Underground Boring Bit in action:
https://www.dropbox.com/s/xxnqzraa3r9fjbv/USDrillingCompany-Directional-Underground-Boring-Bit-Hwy-21-47-Demonstration.mp4

U.S. Drilling Products' innovative boring bit was created by company president and inventor Douglas Ford. Ford's background includes seven years as a cable company construction supervisor and five years as owner of Meramec Valley Communications.

"Our boring bits are designed to save contractors numerous labor hours on the job site, thousands of dollars in equipment rental fees and broken parts, plus a lot of headaches," said Ford. "This unconventional boring bit is dependable, steerable and great for every horizontal drilling job that you can throw at it."

U.S. Drilling Products' Directional Underground Boring Bit has a cutting diameter of 6 inches and weighs 18.5 lbs. Its base is available in multiple hole patterns for mounting to Ditch Witch, Vermeer and other drilling machines.

The bit's unconventional, patented design boasts 38 tungsten carbide boring tips aligned in three circular rows of varying height. This ensures that the pressure and load are equally distributed around the entire bit. The patented configuration also allows the U.S. Drilling Products' Directional Underground Boring Bit to start cutting at a lower PSI (1,500) while the water jet enables the bit to be steered to bore the exact pathway that the operator wants.

"Our bit is revolutionizing the entire utility construction industry," said Ford. "Not only will our bit create pathways through the toughest, solid rock, but it will do so in a timely and efficient manner."

For more information about U.S. Drilling Products or other products, click here to go to Utility Products' Buyers Guide.