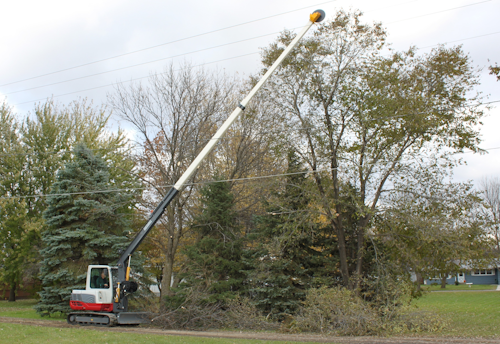 Loftness introduces the Kwik-Trim tree trimmer to its VMLogix line of equipment. The Kwik-Trim is a compact, yet mobile tree trimmer with a 53-foot reach, which is far enough to handle the majority of trimming needs. Unlike larger competitive units, it easily maneuvers in tight areas and can be transported with just a pickup and trailer.

Using the chassis of a TB250 Takeuchi mini excavator, the Kwik-Trim is equipped with a fiberglass-reinforced plastic (FRP) boom and uses a long-stroke hydraulic cylinder to telescope to 53 feet. The single-reel design provides a clean, straight pull on the hydraulic hoses throughout the boom's full range of motion. In addition, the machine contains a large-capacity oil cooler, variable displacement piston pumps and custom valves to ensure reliability and smooth operation of the hydraulic system.

The Kwik-Trim features a zero turn radius and 360-degree continuous boom swing, 90-degree boom arc and 35-degree boom tilt. At the end of the boom is a 24-inch, carbide-tipped saw blade, which operates at 3,000 rpm. The functions are controlled by pilot-operated joysticks for easy, precise movement. The controls also allow the operator to fully retract the boom into transportation mode from inside the comfortable, climate-controlled cab.
For more information about Loftness or other products, click here to go to Utility Products' Buyers Guide.