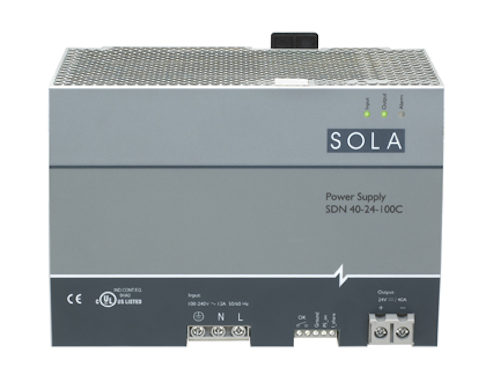 Rosemont, IL – Power management: SolaHD has expanded its industry standard SDN-C power supplies line with the SDN 40-24-100C, a 40A single-phase model that positions the SDN-C Series as one of the broadest available today, now ranging from 5A to 40A in both single-phase and three-phase designs, to help customers meet their bulk power supply needs.
Offering many of the legacy features that have made the SDN-C Series a bestseller, the new SDN 40-24-100C maintains a small, easier to integrate footprint with exceptionally high efficiency while delivering the same 40A capacity as the largest SolaHD three-phase model. For manufacturers located in facilities with only single-phase power, this means there is no longer a need to let power supply capacity prevent the running of large industrial loads, such as sorting, conveying and packaging equipment. In addition, the SDN 40-24-100C helps manufacturers add new equipment that can be powered from the existing structure with little or no retrofitting requirements.
"Single phase power is by far the most commonly available, even when industries require three-phase service to run large industrial motors," explained Natalia Boyce, Product Marketing Manager for SolaHD. "Our new 40 Amp, single-phase SDN-C transformer is a perfect fit for powering large DC loads on a standard, single-phase AC circuit."
Like all SDN-C Series power supplies, the new 40A single-phase model features unique visual diagnostic LEDs to indicate I/O status at a glance. They come equipped with standard screw terminal connections and a rugged, industrial-grade metal outer case thatefficiently dissipates heat, and delivers full power in a wide temperature range from -25°C to +60°C. Their high MTBF translates into superior reliability, longer life and enhanced value to the end-user.
For more information about SolaHD or other products, click here to go to Utility Products' Buyers Guide.