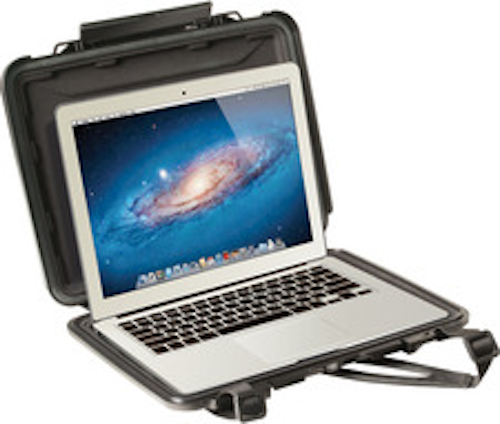 TORRANCE, CA ­ – Utility supplies: Pelican Products offers Pelican ProGear 1070CC HardBack Case for case protection of laptop computers up to 13 inches.
Produced from a partnership with BMW DesignWorks, the Pelican ProGear 1070CC HardBack is designed to safeguard Ultrabook laptops (Hewlett Packard, Lenovo®, Samsung, Acer®, Dell and Asus®) and Apple® MacBook® computers up to 13 inches. This streamlined, crush-resistant case features the same military-grade attributes as Pelican's classic case products (including a watertight o-ring seal with automatic pressure equalization valve).
As additional protection, it features a shock-absorbing plush foam liner (with impact-protection cell cushions) and a set of four adhesive backed, memory foam buffers which secure the laptop for safe travel. Also included is a nylon shoulder strap for easy portability and non-skid rubber feet that make the case a stable computer work station. The Pelican ProGear 1070CC HardBack Case is available in back.
For more information about Pelican Products or other products, click here to go to Utility Products' Buyers Guide.