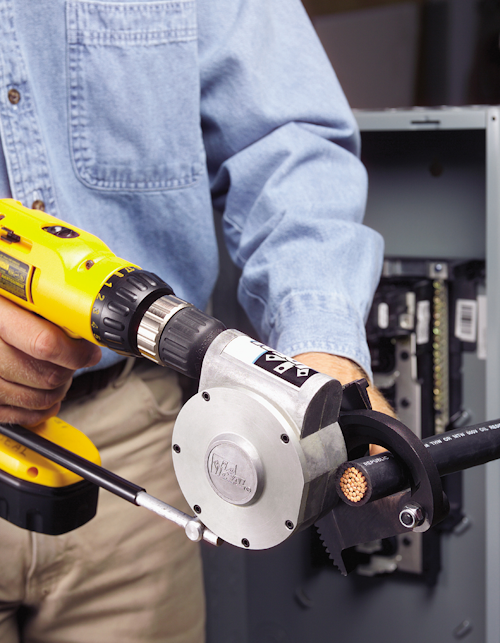 SYCAMORE, IL – Electrical tools: When an electrician, data communications installer or utility linesman attaches the new IDEAL PowerBlade to a handheld drill, they'll be equipped with a tool capable of cutting thick MCM cables quickly and cleanly -- simply by pulling the drill's trigger.
The new IDEAL PowerBlade Cable Cutter is a drill attachment that provides a smart alternative to exhausting long-arm cable cutters, undependable ratcheting cutters, or complex hydraulic versions that can cost upwards of $3,000. The PowerBlade also eliminates the need to carry bulky battery packs or special chargers because it works with the standard drills contractors already carry in their tool bags.
The PowerBlade concept is simple: It installs like a drill bit on virtually any corded or uncorded drill with a 3/8" drive shaft, with the turning action of the drill providing the needed force to quickly and cleanly slice through up to 750 MCM hard-drawn copper cable or up to 1,000 MCM aluminum cable with minimal cable distortion thanks to a contoured blade design. An adjustable torque arm securely holds the drill in place, while the ergonomic designed, textured Santoprene® grip provides control and reduces vibration. In addition, the grip has a protective shield to prevent accidental contact between the user's hand and the tool.
"The PowerBlade isn't simply a new cable cutter, it is a whole new way to cut cable that dramatically reduces user fatigue, tool costs and space without compromising the quality of the cuts," noted Jon Howell, Product Manager, IDEAL INDUSTRIES, INC. "Moreover, because rounded cable is installed around the world, the PowerBlade is a truly global product that answers universal requirements for greater productivity and ease-of-use."
According to Howell, the new PowerBlade is engineered for long-term durability, boasting a feature set that includes a rugged metal housing, hardened steel blades and heavy-duty gears: "Unlike ratcheting or hydraulic cable cutters, the PowerBlade is not a fragile tool in need of frequent maintenance. Its robust design ensures consistent cutting for years to come."
For more information about IDEAL or other products, click here to go to Utility Products' Buyers Guide.