Video monitoring: IK-WB81A camera captures wider field of view at night than standard bullet cameras
Remote video surveillance: Powerful single reflex LED, from Toshiba Surveillance & IP Video Products Group, provides illumination angle of 53 degrees, eliminates need for additional cameras and lighting.


Jun 24th, 2013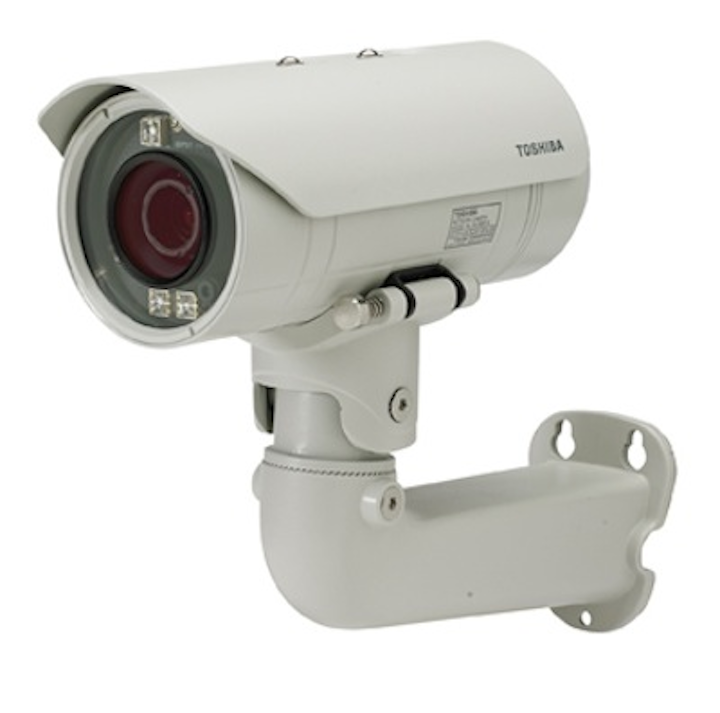 Irvine, CA—Video surveillance system: Toshiba Surveillance & IP Video Products Group, a business unit of Toshiba America Information Systems, Inc., has introduced its advanced IK-WB81A IP bullet camera with full 1080p HD resolution. Designed for outdoor video surveillance, the IK-WB81A captures a wider field of view than competitive bullet cameras by using an exclusive, long-range SRLED (Single Reflex LED) IR system with an illumination angle of 53 degrees.

"Our new IK-WB81A offers a 30 meter viewing range which takes advantage of the 1080p HD resolution," said Sergio Collazo, Director -- Sales & Marketing, Toshiba Surveillance & IP Video Products Group. "That means you can discreetly monitor larger outdoor areas at night without incurring the cost of additional hardware."

No More "Halo" Effect
The IK-WB81A is ideal for video surveillance applications that experience changing light conditions throughout the day and require extra illumination at night. Its Vari-focal 3.7mm to 9mm zoom lens and SRLED IR illuminators are complimented by new Split Glass technology that prevents LED light from reflecting back into the lens. Split Glass eliminates the washed-out "halo" effect often seen on nighttime images, especially when the lens glass is dirty or wet. Also, the IK-WB81A features day/night imaging with IR cut filter and wide dynamic range for difficult backlighting conditions.

Fast, Simple Installation
The IK-WB81A installs quickly and easily. It comes standard with simplified cable management, remote optical zoom and one-touch remote auto focus to eliminate the need for contractors to run back and forth to the control room to confirm proper focus. ONVIF compliance makes the IK-WB81A interoperable with third-party ONVIF components, regardless of the manufacturer.

Additional features of the IK-WB81A include:
• Wide viewing angle: 37° to 96° horizontal, 21° to 53° vertical
• Choice of H.264, MPEG4 and MJPEG compression codecs
• Up to 30 fps at full HD 1920 x 1080 resolution
• HD image quality to capture facial features, license plates and the smallest of details
• IP66 weatherproof protection rating to withstand outdoor elements
• Audio in/out
• SD card slot for edge recording.

For more information about Toshiba or other video surveillance, click here to go to Utility Products' Buyers Guide.