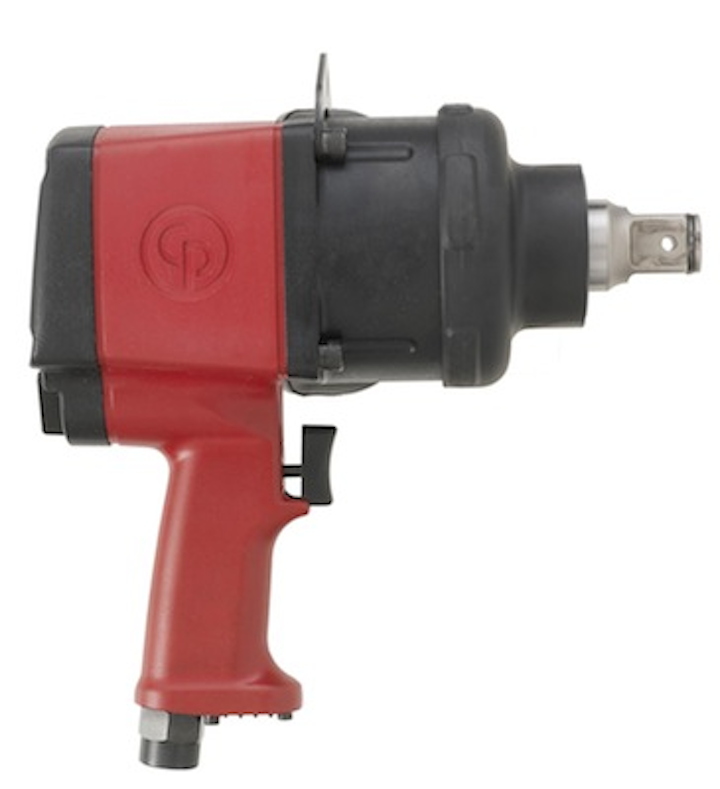 Utility equipment: Chicago Pneumatic is announcing its new CP69 1" impact wrench series. This new addition to Chicago Pneumatic's industrial tool line is one of the most powerful, durable and comfortable in its class. The new CP69 series is ideal for heavy duty industrial maintenance applications where power and tool reliability are critical.
The CP69 series has been redesigned to exceed previously set benchmarks in durability thus making it ideal for harsh industrial environments, including those with higher dust concentrations. Delivering up to 1920 ft-lbs of torque [2600Nm], with a powerful 700 blows/min. (BPM), the CP69 series is ideal for virtually any heavy duty applications.
Features setting the CP69 series apart include a powerful pinless rocking dog clutch with a newly designed oil bath lubrication system. In addition, precision machined and finished steel rotor and end-plate components help ensure optimum durability and tool performance. The new light aluminum alloy clutch housing is protected by a molded rubber front cover, adding to the CP69 series' inherent durability.
Operator Safety and comfort are key attributes which drive Chicago Pneumatic's product development engineers. As a result, the new CP69 series offers advanced ergonomic features not found in other similar products. These ergonomic design features include a low vibration level of only 8.7m/s² [ISO28927-2], low operating noise level at only 97dB(A), and an integrated suspension bail.
"By combining power, superior durability and a large variety of ergonomic features, the new CP69 series is the ideal 1" impact wrench for industrial and heavy maintenance applications. It was designed to improve operator safety and productivity," said Luis Clément, Vice President Chicago Pneumatic Tools. "It's definitely a very competitive product that we have brought to the market. With the main accessories included we have eliminated the need for costly options."
The new CP69 series is the only range featuring a 1" industrial pistol and D-handle design, which combines power, durability and comfort. The CP69 is a very competitive value packed tool meeting the needs of industrial users, from the simplest operations to the most demanding ones.
For more information about Chicago Pneumatic or other products, click here to go to Utility Products' Buyers Guide.