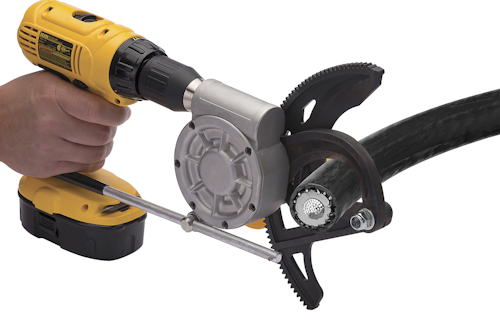 Utility supplies: IDEAL INDUSTRIES, INC., one of the world's largest manufacturers and suppliers of tools, connectors and testing products for electricians and data communications contractors, has debuted the newest member of its groundbreaking PowerBlade™ line of professional-grade cable cutters -- the Big Kahuna™ Power Blade.

Featuring a massive 3.5-inch jaw opening, the Big Kahuna Power Blade makes easy work of cutting large diameter copper and aluminum electrical cables, resulting in clean, installation-ready cuts on high-voltage cables up to 1250 MCM in less than twenty seconds. These large cables are commonly deployed in industrial plants, by electrical utilities for primary or secondary transmission, and in underground service of 600V or more.

Like the original PowerBlade introduced several years ago, the Big Kahuna Power Blade is intended to replace time-consuming, awkward manual cutters that are prone to distort or "football" large cable geometry, creating poor connections and leaving behind tired hands, arms and shoulders. Instead of manpower, the innovative Big Kahuna Power Blade attaches onto any 12 volt or higher drill so that cutting is as effortless as pulling the drill's trigger. Its contoured blade design minimizes cable distortion, while the adjustable torque arm holds the drill perfectly in place. Amazingly, only three major parts of the Big Kahuna Power Blade are moving during the entire cutting process so that wear and maintenance requirements are greatly reduced.
Before being introduced today, the Big Kahuna Power Blade was beta tested for three months by electricians at a number of factories, several utility companies, as well as on an oil drilling platform and in both coal and salt mines where it performed up to 70 heavy-duty cable cuts a day. Results were overwhelmingly positive, explained Bruce Hartranft, Senior Product Manager for IDEAL: "Every electrician who used the Big Kahuna Power Blade reported an experience worlds apart from traditional ratcheting or manual cable cutters, including one contractor who cabled an entire utility plant in a few days using it. After the testing period was finished many of the electricians did not want to return the units to IDEAL. In fact, some even offered to purchase the pre-production units so they did not have to go back to their old cutting tools."

Because it cuts large cables in seconds rather than minutes, the Big Kahuna Power Blade also makes economic sense, said Hartranft. "When compared to other cable cutting equipment, such as hand loppers, ratchets or battery powered units, Big Kahuna's cost-per-cut is at least sixty to eighty percent lower. A hand lopper will take 2-3 minutes to cut 1250 MCM cable while the Big Kahuna Power Blade takes only 20 seconds. That makes a big difference when you are paying a contractor $45 or more an hour. It pays for itself in saved labor costs typically within six months to a year."

The Big Kahuna Power Blade is a professional tool engineered for demanding usage. Its steel blades are hardened through a proprietary heat-treating method that results in unprecedented strength and durability. Although replaceable, the blades are designed to last for thousands of cuts on 1250 MCM aluminum or copper cables. leaving a clean cut each time, every time. Likewise, its gears and metal housing are exceptionally rugged. Maintenance is as simple as oiling the blades with a light cutting oil. The gearbox is sealed and lubricated, so it will not require maintenance for the life of the tool. This compares favorably to competitors' battery-powered cable cutters that feature hundreds of individual parts that need regular maintenance or repair.

For more information about IDEAL Industries or other products, click here to go to Utility Products' Buyers Guide.