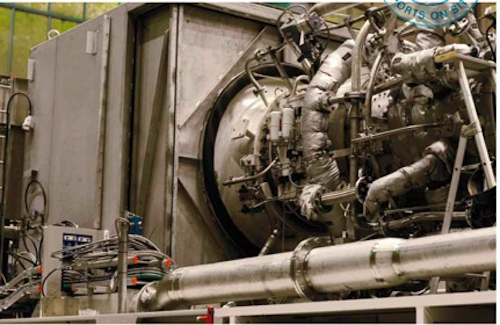 Safety equipment: Roxtec's cable and wire sealing system is used by major manufacturers developing one-stop solutions for power generators and attached control systems like skid-mounted turbine-generators.
Manufacturers like Siemens, ABB, Alstom and others are developing one-stop solutions for power generators and attached control systems, such as skid-mounted turbine-generators. Skid mounted turbines are often used in tough environments such as the offshore industry in the North Sea, onboard seagoing vessels and military and defense applications. Equipment and sub-systems have to be suitable for the exposure to dust, gas, water or electromagnetic fields. It is very important to choose the correct components.
Manufacturers also face challenges in achieving a simple and repeatable manufacturing process for volume production. The solution is to standardize a uniform specification based on practical, flexible products and sub-systems.
The strength of the Roxtec solution is that it can help solve these problems. Roxtec can provide protection against intrusion of fire, fluids, dust and electromagnetic fields. Installed in control cabinets, in start motors or for cable and pipe transits, Roxtec is a reliable one-stop solution for cable and pipe routing throughout the entire skid unit.
Above is a typical view from the manufacturing of GT10, GT35 and GTX100 turbo-generators at the Siemens factory in Finspång, Sweden. Skid-mounted turbine-generators are complete units for industrial power generation. Each unit consists of several equipment modules: air inlet, compressor, start motor, turbine-generator, combustion chamber, exhaust and control cabinets. The Siemens turbine-generators provide high efficiency, more than 90 per cent, when in combined heat and power applications for power capacity reach as high as 45MW for some units.
For the manufacturer, Roxtec is a product that can be used for a wide variety of applications and requirements. Not only in terms of technical capacity, but most of all through its practicality and smart logistical properties. Add to that the availability through a worldwide network and you end up with a partner for a reliable manufacturing standard.
For more information about Roxtec or other products, click here to go to Utility Products' Buyers Guide.