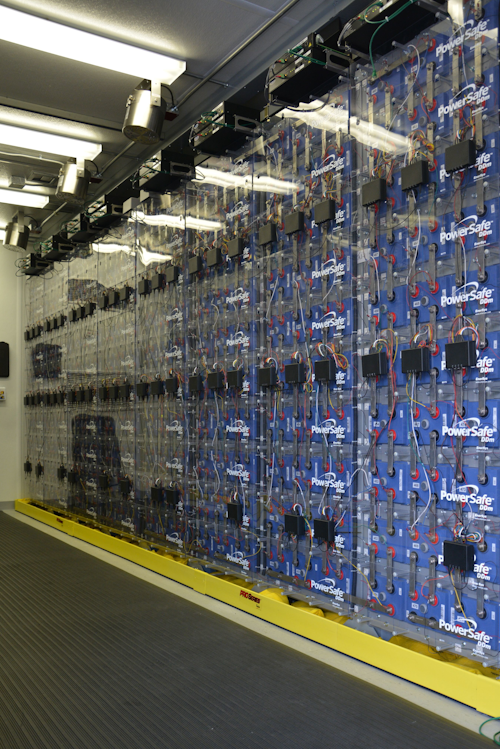 Reading, PA – Power management: EnerSys®, provider of stored energy solutions for industrial applications, has announced that its 1 MWh OptiGrid™ Stored Energy Solutions customer showcase in South Burlington, Vermont is actively supporting Dynapower Company, the leader in energy storage inverters, during energy curtailment -- and continues to support curtailments during which real-time data is being acquired, announced Mike Kulesky, EnerSys Director of Commercial Marketing for Telecommunications, Utility and New Technologies.

Completed in early 2013, the OptiGrid™ Stored Energy Solutions customer showcase is located adjacent to Dynapower's 150,000-square-foot, energy-intensive manufacturing facility. It is designed to provide ramp rate control and renewable firming functions for Dynapower's onsite wind turbine and solar array, while enabling EnerSys® to provide customers with a first-hand view of an operational utility-scale storage system.
Dynapower began using OptiGrid™ Stored Energy Solutions for curtailment as part of a voluntary agreement with the local utility to reduce strain on the local grid. The curtailment program requires that Dynapower reduce its energy load at unscheduled times throughout the year when demand exceeds power generation, such as during the area's busy ski season and the summer's hottest months. Dynapower's South Burlington facility manufactures a variety of power conversion equipment, including bi-directional inverters, which are used in the OptiGrid™ Stored Energy Solutions system.
"Our customer showcase, in combination with the Dynapower facility, allows us to test new components and load profiles, while providing us with excellent 'real world' data during periods of curtailment," explains Kulesky. "The installed monitoring system allows us to trial different components that we will offer with the OptiGrid™ Stored Energy Solutions system."
The OptiGrid™ Stored Energy Solutions system is capable of providing over 1 MWh of energy to support high power facility requirements as well as 250 KW of power for over four hours to support power needs during the curtailment period. Currently, EnerSys® and Dynapower are working with the local utility to investigate other means to help improve grid efficiency and reduce power quality issues.
OptiGrid™ Stored Energy Solutions is available in the full range of battery chemistries offered by EnerSys® -- making it one of the most comprehensive, large-scale energy storage systems available globally. The system can be customized with one or more of the following EnerSys® chemistries: tubular technology, flat plate VRLA, flat plate flooded, lithium ion, Thin Plate Pure Lead (TPPL), and nickel cadmium.
OptiGrid™ Stored Energy Solutions is provided as a complete, packaged solution that combines the right battery chemistry, as well as a power conditioning system, monitoring system, shelter/container and full service and engineering to best match the customer's technical and economical requirements. Financing and leasing is available through the EnerSys® Financial Solutions program.
OptiGrid™ Stored Energy Solutions is designed for utilities, independent system operators, independent power producers and regional transmission operators, as well as end users, including commercial, industrial, government agencies and renewable project developers.
For more information about EnerSys or other products, click here to go to Utility Products' Buyers Guide.