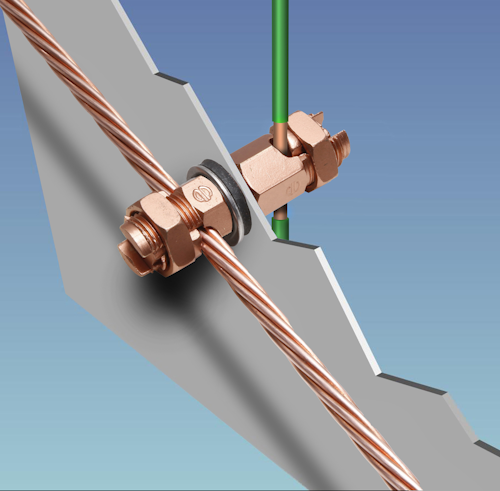 Utility safety: BURNDY®, a manufacturer and provider of connector solutions to the industrial, energy, construction, telecommunication, petrochemical, data center, and transportation industries, introduces its Bulkhead Ground Connector designed to allow ground wires to easily and effectively be connected from the inside of an enclosure to the outside. Using proven split bolt BURNDY technology, the Bulkhead Ground Connector incorporates a male SERVIT POST™ and female SERVIT POST as part of an easy to use kit. The male and female SERVIT® portions are made of silicon bronze and the hardware supplied is stainless steel.
An optional rubber grommet is also provided to ensure a NEMA 4X rating when installed correctly. Supplied with an easy to follow application guideline brochure, this new kit provides solutions to an application issue that has been a challenge to many industries for years. Easy to use, easy to install, and provides a quality BURNDY ground connection.
BURNDY® is The Grounding Superstore™
About BURNDY
Headquartered in Manchester, New Hampshire BURNDY has over 85 years of dedicated customer support in both service and product. Our customers need to look no further than BURNDY for all their connector, tool, and accessory needs with our BURNDY Engineered Systems of coordinating dies, connectors and tools. The three elements have been specifically designed to work together and engineered to meet stringent, accepted quality standards – providing the user complete confidence in the integrity of the connection.
For more information about BURNDY or other products, click here to go to Utility Products' Buyers Guide.