Work lights: Diesel powered mobile LED light tower
Light tower: Larson Electronics' diesel powered mobile LED light tower is capable of providing 60 hours of continuous operation from a single tank of fuel. The WCDE-4-4X300W-LED Mobile Light Tower can illuminate up to 6 acres of work area and features LED lighting technology paired with the versatility of mobile operation.
Dec 3rd, 2013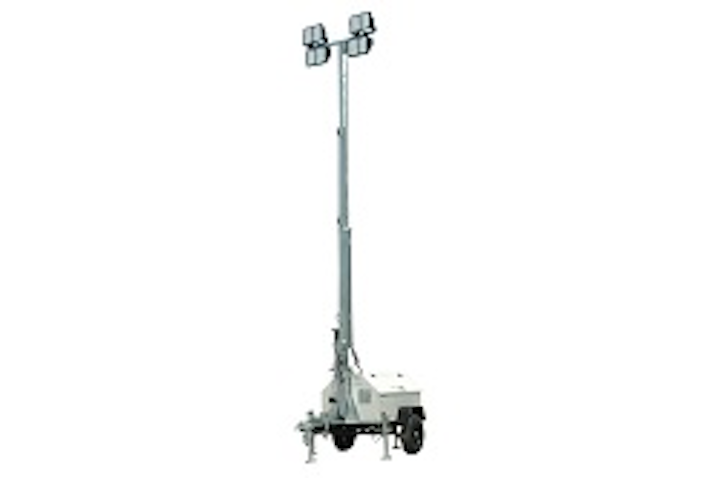 Utility equipment: The Larson Electronics WCDE-4-4X300W-LED mobile light tower is a high power mobile lighting system designed to provide efficiency and performance surpassing that of comparable metal halide towers. This high output LED light tower features four 300 watt LED lamps producing a total of 118,320 lumens of light output paired with a diesel generator and control system mounted to a single axle trailer. The trailer has a 2,000 lbs rated single axle, dual safety chains, and a standard 2 inch ball style coupling hitch for simple hookup and towing.
Power for this mobile light tower is provided by a water cooled Kubota diesel engine turning a 6,000 watt, 120/240 VAC generator with four wire hookup and external ground. Some key features of the power generating system includes key operated electric start, low oil pressure and high temperature automatic shutoffs, and a 30 gallon fuel tank for long run times. The tower assembly consists of an extendable mast built from galvanized steel, which can be raised to a maximum of 30 feet using two included hand winches with built in self braking safeties. The mast is stowed for transport by lowering and then folding the mast over onto its rests and locking it into place. The lamp assembly consists of four 300 watt LED light fixtures producing 29,580 lumens each, for a total of 118,320 lumens of light output.
Each fixture is IP68 rated waterproof, formed from extruded aluminum for high strength, and features built in advanced electronic controls to provide active heat and voltage control for maximum output and LED longevity. This LED light tower runs longer on a tank of fuel than comparable HID or halogen towers and is ideal large scale outdoor lighting applications where operators need dependable illumination with the versatility of mobile operation.
"The WCDE-4-4X300W-LED LED light tower combines the efficiency and durability of high powered LED lights with the Kubota diesel generator for optimal portable lighting," said Rob Bresnahan with LarsonElectronics.com. ³The diesel generator equipped on this mobile light tower produces 6,000 watts to provide operators a remote power supply and high output LED lighting, making it ideal for construction and job sites."
For more information about Larson Electronics or other products, click here to go to Utility Products' Buyers Guide.