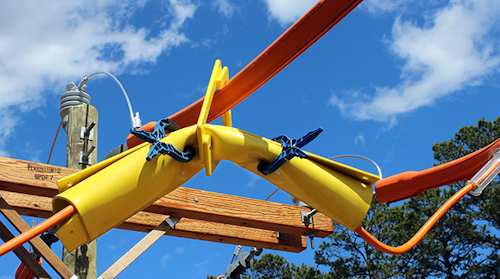 Lineman safety: A Georgia Power employee has invented a solution that enables mechanical jumpers to be supported on energized distribution lines. Available from Utility Solutions Inc., the Jumper-Aid easily captures and secures grounding jumper cables, insulated rubber line hose, and insulated rubber blankets during maintenance operations. The two-piece jumper hanger is also designed to fit over a cross arm for added control and flexibility.


The Jumper Aid can support more than 100 lbs. while maintaining positive control of temporary jumper cables. The scissor action allows a lineman to open the hanger completely to capture a cross arm, jumper cable or rubber blanket without disassembly.
At just over 1 lb. and 1-in. thick, the patented Jumper-Aid is lightweight and compact. The high visibility yellow polymer is very strong, even in cold weather.
• Product dimensions: 14 in. x 10 in. x 1 in.
• Product weight: 1 lb. 3 oz.
• Item# USJH-002 Jumper-Aid
For more information about Utility Solutions or other products, click here to go to Utility Products' Buyers Guide.