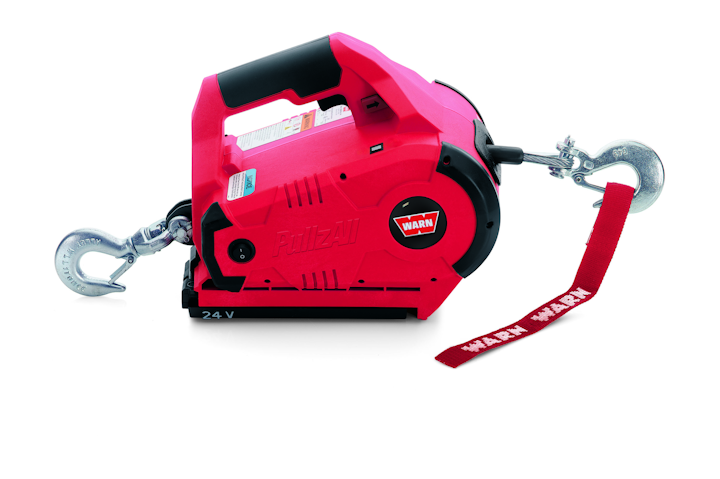 Utility equipment: Warn Industries' PullzAll handheld electric tools are powerful, lightweight and easy-to-use -- with the ability to lift or pull up to 1,000 lbs. They can be used for a wide variety of things in the fields of construction, maintenance and more.
The PullzAll is available in standard and camo styles as either a 110-volt AC tool, or a cordless 24-volt DC unit with a rechargeable NiCd battery pack.
When heading off-roading, Warn Industries offers its new line of winches. Featuring a symmetrical design, a quieter motor and a faster pull speed than other winches, the ZEON has the strength and dependability to rescue you from whatever tough situation you might find yourself stuck in. Its models feature pulling capacities ranging between 8,000 lbs. to 12,000 lbs., and all come with either wire or synthetic rope.
Riding through some rough terrain may require the use of an ATV, Side x Side or other off-road vehicle, and having the right kind of winch along could get you out of a lot of trouble. WARN powersports winches such as the ProVantage and Vantage lines enable off-road vehicle operators to get their vehicle over difficult spots or out of ditches, snow or mud holes. They are like having a personal towing service at the push of a button should it ever be needed.
The Vantage line of winches, with pulling capacities from 2,000 lbs. to 4,000 lbs., offers class-leading performance and reliability in an affordable package. All WARN Vantage winches are available with either aircraft-grade wire rope or synthetic rope.
For more information about Warn Industries or other products, click here to go to Utility Products' Buyers Guide.