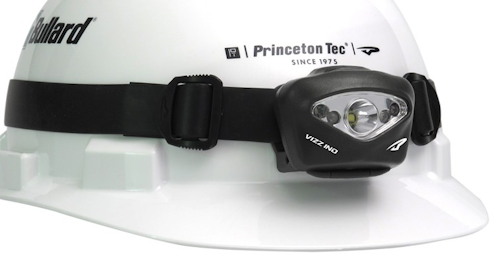 Safety lighting: Princeton Tec's Vizz-IND Headlamp features a 165 Lumen Maxbright LED and provides a long throw bright white spot beam. Four white Ultrabright LED's provide a flood beam for up close work and a wider viewing angle.
The four white LED's having a dimming feature to set the light output according to the user's needs. 3AAA Alkaline batteries, a nylon head-strap, and a rubber hard-hat strap are included. The headlamp is waterproof to 1 meter for up to 30 minutes with an impressive 150 hour burn time.

Vizz-IND is proudly Made in the USA!
For more information about Princeton Tec or other products, click here to go to Utility Products' Buyers Guide.