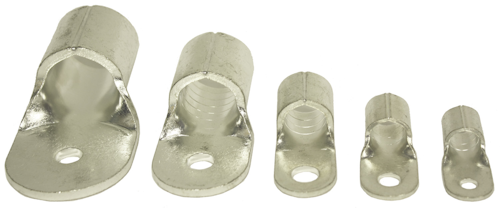 Utility transmission: BURNDY, a manufacturer and provider of connector solutions to the industrial, energy, construction, telecommunications, petrochemical, data center, OEM, and transportation industries, announces the addition of the HYDENT™ YAD uninsulated OEM lug. This lug is constructed of electrolytic copper. Designed with a brazed seam barrel, standard neck, V-groove inner serrations and electro-tin plated for durable long-lasting corrosion resistance, two or more terminals can easily be stacked on a common stud. The HYDENT™ YAD is ideal for use with code or flex cable. In addition, the round ring tongue provides for a secure termination under the screw head that cannot be removed without the complete removal of the screw.
The HYDENT™ YAD lug works in conjunction with the BURNDY® series of OEM crimping tools designed specifically for the OEM market. When used together, HYDENT™ YAD lugs and BURNDY® tools make up the BURNDY® Engineered System, which ensures a proper connection with quick, visible inspection.
About BURNDY
Headquartered in Manchester, New Hampshire BURNDY has over 85 years of dedicated customer support in both service and product. Our customers need to look no further than BURNDY for all their connector, tool, and accessory needs with our BURNDY Engineered Systems of coordinating dies, connectors and tools. The three elements have been specifically designed to work together and engineered to meet stringent, accepted quality standards – providing the user complete confidence in the integrity of the connection.
For more information about BURNDY or other products, click here to go to Utility Products' Buyers Guide.