Portable power system from Southwest Electronic Energy Group
Utility supplies: Rugged, lightweight 12 volt / 100 amp-hour portable power system delivers 2X run-time, 2X power at 1/2 the weight for anyplace-anytime field applications.
Aug 2nd, 2013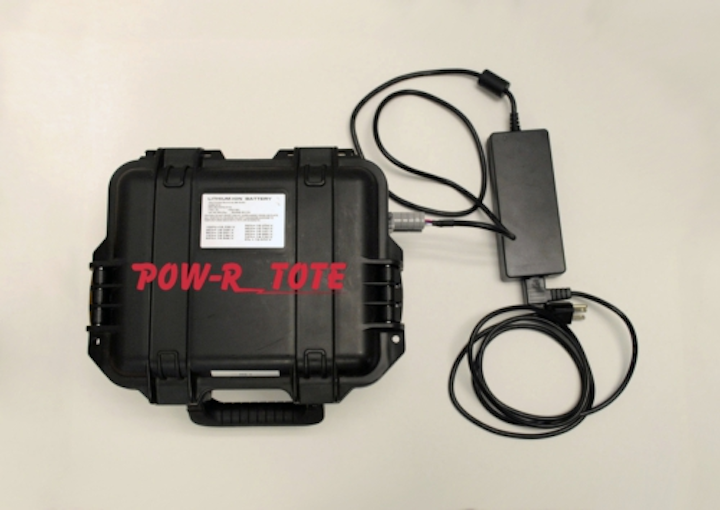 Houston -- Utility equipment: A rugged, lightweight, 12V/100Ah portable power system was announced by Southwest Electronic Energy Group (SWE), breaking new ground in higher capacity and compact-convenient energy for wherever standard power sources are unavailable. POW-R TOTE, originally employed by law enforcement for quiet electrical energy during long stakeouts, is now available to everyone from police agencies to first responders to military to industrial and many more field applications. About the size of a lunchbox, and weighing only 23 lbs, the eco-friendly and reliable POW-R Tote uses safe, powerful Lithium-Ion battery technology to deliver 2X longer run time and 2X more power at 1/2 the weight when compared to a typical 12V lead acid battery commonly used in similar applications.
POW-R TOTE is housed in a virtually indestructible, heavy-duty, watertight iM2075 Pelican Storm Case to handle harsh environments. Two power connectors come standard: An automobile 12v auxiliary outlet (car plug) powers and recharges cells phones, notebook computers, tablets and other low power devices. An Anderson SB50 Powerclaw® connector is also provided for higher power gear like surveillance, drugs test kits and power tools. SWE will configure-to-order other connectors and energy capacities to meet customers unique needs. Recharging POW-R TOTE is easy with an external 115V/240V AC adapter that plugs into any outlet.
POW-R TOTE Lithium-Ion delivers 4X energy per pound compared to a standard car battery. Reliable, safe and clean with very low maintenance, Lithium-Ion is used in a broad spectrum of applications including power tools, satellites, pacemakers, automobiles, personal care products, cell phones, cameras and notebook computers.
For more information about Southwest Electronic Energy Group or other products, click here to go to Utility Products' Buyers Guide.