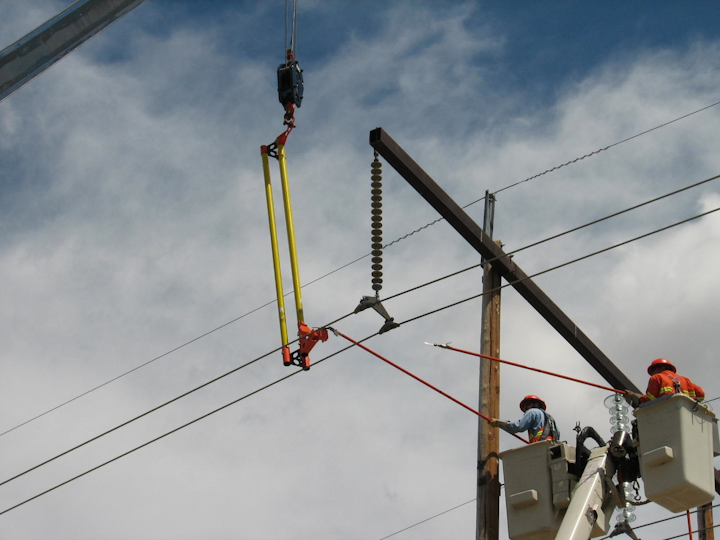 WACO, Texas — Utility tools: Diversified Products offers a bundle lifter, providing power line and electric utility crews with a faster and more efficient solution for removing, supporting and reconnecting insulator strings during energized work. The bundle lifter enhances safety while optimizing the utilization of equipment and personnel.
For applications involving bundles held by a yoke plate, the bundle lifter offers linemen the advantage of maintaining the plate in an upright position, rather than having to straighten it up using hot sticks. By making it faster and easier to reconnect the plate to an insulator string, the bundle lifter saves time for line crews while also greatly diminishing lineman fatigue.
Field-tested and approved by transmission and distribution maintenance professionals, the bundle lifter is constructed of high strength steel and 10-foot clear span fiberglass. For optimal maneuverability and safety, the unit is designed to allow ample clearance above a crossarm while avoiding interference with an insulator string. Weighing 125 pounds, the lifter has a load capacity of 3,500 pounds and is rated to 240 kV.
Standard features of the bundle lifter include a pivoting gate that retains the yoke plate within the lifter, as well as an attachment point for linemen to guide the lifter with hot sticks.
A lineman for a major electrical utility company conceived of the idea for the bundle lifter, and the product concept was further developed by actual line crews in the field.
For more information about Diversified Products or other products, click here to go to Utility Products' Buyers Guide.