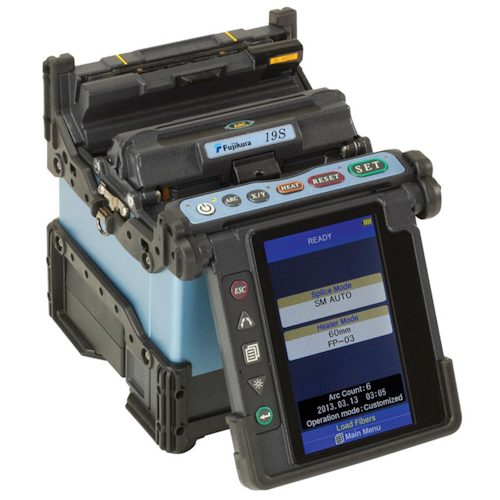 Spartanburg, SC – Electrical tools: AFL introduces the Fujikura 19S fusion splicer, a new fixed v‑groove single fiber splicer, the latest in several new field splicer solutions launched in 2013. The new 19S retains the proven ruggedized features pioneered by Fujikura, but incorporates automated and enhanced user control capabilities to further increase splicing efficiency.
The Fujikura 19S fusion splicer offers several enhanced features:
· Automated and programmable wind protector
· Fully ruggedized for shock, dust and moisture
· Li-ion battery with 180 splice/heat cycles per charge
· 5 mm cleave length for splice on connectors or small package needs
· Sheath clamp or fiber holder operation
· On-board training and support videos
· Internet software upgrades
· Multi-function transit case with integrated workstation
· Fully compatible with the FuseConnect line of splice-on connectors
· Fujikura released the 12S, 12R, 70S and 70R models earlier this year and plans to release the 19R, a four-fiber ribbon fusion splicer later this year.
Fujikura understands that service and support are just as important as excellent engineering. The 19S, like all Fujikura products, is supported by the most knowledgeable and responsive service team in the industry. While engineering innovation and quality products have made Fujikura a premier provider of fusion splicers, unparalleled levels of service and support are what have made Fujikura the leader in the industry.
For more information about AFL or other products, click here to go to Utility Products' Buyers Guide.