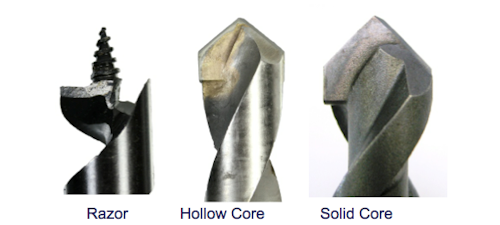 Utility equipment: BURNDY, a leading manufacturer and provider of connector solutions to the industrial, energy, construction, telecommunication, petrochemical, data center, and transportation industries, introduces several new auger bit designs for the Utility and Construction industries. These new drilling bits complement the existing product portfolio by providing customers more drilling options.
The new "RAZOR" auger bit is made from hardened steel and designed to cut fast, clean and straight into a variety of treated utility poles. The unique cutting head incorporates a single spur and cutting edge design that scores and shapes the hole. The lead screw design pulls the bit through the wood effortlessly while the flute design evacuates debris quickly leaving a perfectly concentric hole

The new "HOLLOW CORE" and "SOLID CORE" auger bit designs are made exclusively for fiberglass and composite poles. These carbide-tipped auger bits both feature unique cutting edges and flute designs intended to withstand the rugged surfaces of composite materials along with the ability to evacuate debris easily while keeping the bit centered during drilling.
Whether drilling into hard treated wood poles, composite poles or fiberglass poles, BURNDY has the solution.
About BURNDY
Headquartered in Manchester, New Hampshire BURNDY has over 85 years of dedicated customer support in both service and product. Our customers need to look no further than BURNDY for all their connector, tool, and accessory needs with our BURNDY Engineered Systems of coordinating dies, connectors and tools. The three elements have been specifically designed to work together and engineered to meet stringent, accepted quality standards – providing the user complete confidence in the integrity of the connection.
For more information about BURNDY or other products, click here to go to Utility Products' Buyers Guide.