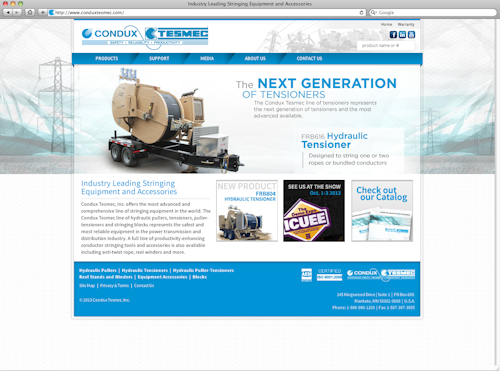 MANKATO, MN – Utility equipment: Condux Tesmec recently launched a new website for its comprehensive line of stringing equipment. Choosing the right stringing equipment is critical for successful conductor installation projects. The new easy-to-navigate Condux Tesmec site provides the information electrical contractors need to make educated product decisions regarding stringing equipment. Technical specifications, design features and operational capacities for over 20 different models of pullers, tensioners, puller-tensioners, and reel stands, along with the industry's largest selection of conductor blocks and stringing accessories, can be viewed on the new site.
The Condux Tesmec catalog, product literature and manuals are available for download in Adobe Acrobat PDF format. Users can also find information on upcoming trade shows and new products, as well as view photos and videos of the equipment in action.
The Condux Tesmec line of stringing equipment represents the safest and most reliable equipment in the power transmission and distribution industry. A full line of productivity-enhancing conductor stringing tools is also available including anti-twist rope, jobsite accessories and more.
For more information about Condux Tesmec or other products, click here to go to Utility Products' Buyers Guide.