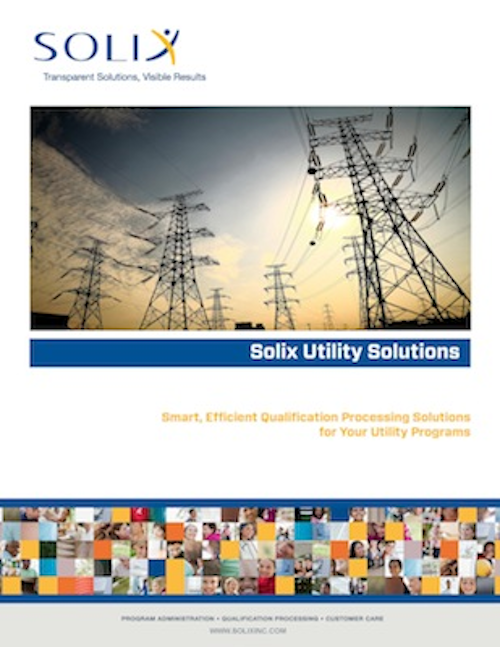 Parsippany, NJ — Utility tools: Solix Inc., a provider of Qualification Process Outsourcing (QPO) for telecommunications and utility customers, has announced its Solix Utility Solutions now include a mobile application for rapid application processing and consulting services for efficient program design. The enhancements build on a foundation of more than a decade of successfully supporting utility customers and responding to their growing needs.

Solix Utility Solutions help clients increase efficiency and improve the customer experience while meeting complex regulatory requirements. The suite, featuring Solix's distinguished end-to-end qualification processing for program applicants, also includes customer communications management (including Live Agent, direct mail and Chat), program administration, reporting and consulting services that leverage the company's deep regulatory expertise and experience in developing and deploying compliant programs. Technical and web consultative support have also been added.

Utilities can qualify customers remotely through Solix's new mobile application that enables real-time receipt, evaluation, and processing of program enrollment submissions. Solix Utility Solutions produce results that are accurate and audit-ready.

"Solix's depth and span of experience in providing qualification processing and program administration for applicant-based programs is unparalleled," said Eric Seguin, Solix Vice President of State Programs. "Our Utility Solutions build upon our core competencies by offering a range of integrated, customer-focused services tailored to ensure utilities are maximizing program potential while simultaneously meeting regulatory requirements."

For more information about Solix or other mobile apps, click here to go to Utility Products' Buyers Guide.