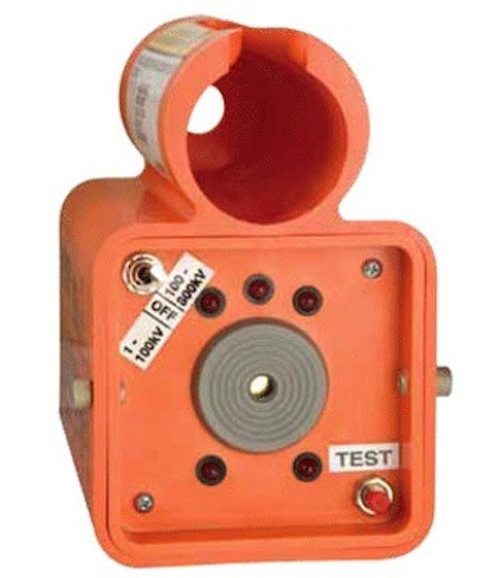 Elgin, IL, Millbury, MA — Voltage tester: Hi-Line Utility Supply Company's Super Tester's lights blink and alarm sounds when placed in an electrostatic field above the trigger threshold of the device. Flashing red lights and high pitched tones alert the operator of present voltage that could be dangerous when applying temporary grounds or performing maintenance. It can be used to check overhead lines, in substations and around switchgear. It simply slips over the head of a standard 1-1/4"-diameter disconnect stick.

The voltage dector also may be used on a Chance Grip-All clampstick, universal, telescoping or positive-grip hot line stick fitted with a special adapter (sold separately). A handy three-way switch permits selection of either the 1 - 100 kV or the 100 - 800 kV range. A test button checks both the battery and the tester. Each unit comes with instructions packed in a lined, reinforced case with carrying handle.

Among Hi-Line Utility Supply's many other tools is the 6-ton battery crimper:
• Features an 18V Lithium Ion Battery
• The crimping jaws open wide to fit easily over connectors
• To help prepare for a crimp, the jaws can be jogged closed until they just grip the connector, allowing the operator to position the cable in the connector before finishing the crimp
• The EK425L will complete about 325 crimps per battery charge on 4/0 AWG splices
• Intelligent Crimping System Technology includes a pressure sensor that monitors the crimping force of each crimp and provides the operator a visual and audible alert if the force is below specifications
• Head features a "BG" fixed nose die.
• Warranty: 3 year (tool), 1 year (battery)

Includes:(1) Tool, (2) Batteries, (1) 120V Charger, (1) Case

For more information about Hi-Line or other voltage detectors and batter crimpers, click here to go to Utility Products' Buyers Guide.