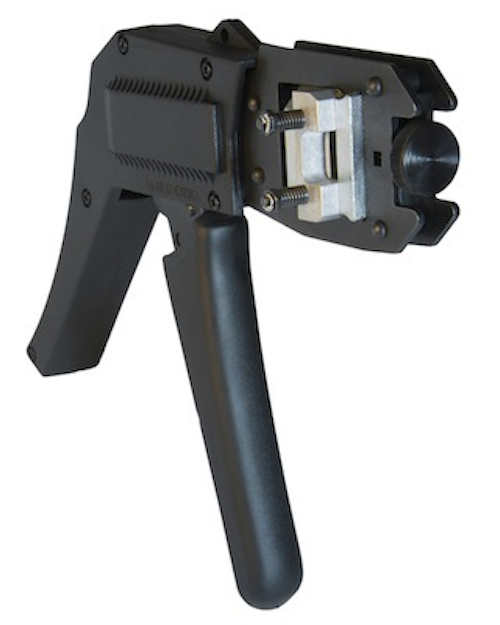 Camarillo, CA — Utility tools: Platinum Tools®, a provider of solutions for the preparation, installation and hand termination of wire and cable, announces the launch of the new EZ-VIKING crimp tool (p/n 100544). The EZ-VIKING modular plug terminator is now shipping.

"The Platinum Tools EZ-VIKING Crimp Tool was developed to meet the needs of the most discerning and quality sensitive installation professionals in multiple markets, including commercial, residential, high-end data centers, aerospace, and military, while surpassing the most demanding network and data communication performance standards," said Lee Sachs, Platinum Tools, Inc. president and general manager. "This professional crimp tool is precision manufactured to the highest international standards. It delivers the highest quality and consistent modular plug terminations available in the market today."

Features of the EZ-VIKING crimp tool include:
• Terminates EZ-RJ45® Cat 5e/6 regular & shielded (external or internal)
• Parallel action for precision crimping
• Optimizes termination of Cat 5e and Cat 6 shielded connectors
• High leverage ratchet action ensures full crimp cycle
• Highest quality/durability – minimum of 50,000 cycles
• Zero flex frame prevents torque loss during the crimping cycle
• Tool steel die provides 360 degree of connector support during crimp
• Flush trim on the EZ-RJ45® extended conductors
• Tool is factory set with a precise eccentric cam adjustment function to guarantee performance
• Safety release
• Made in Sweden
• MSRP: $585.00

"We will continue to innovate and improve our unique "EZ" family of connectors and compatible tools," added Sachs. "Products designed to increase an installer's efficiency have been the key to our success and they will continue to dominate our product line in the future."

For more information about Platinum Tools or other crimping tools, click here to go to Utility Products' Buyers Guide.