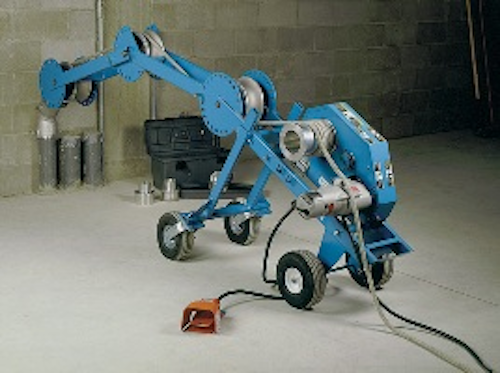 Condux International offers a complete line of versatile cable pullers for a variety of electric cable pulling applications. Condux CableGlider cable pullers offer portability and easy setup. The units are completely self-contained and adapt to a variety of pulling situations.
The Condux CableGlider STD cable puller provides 6,500 lbs. of pulling force and two-speed operation. The CableGlider Plus offers the same pulling force and two-speed operation as the STD model but comes equipped with a heavy-duty frame and extra pivot arms for challenging pulling situations. The CableGlider HD provides maximum pulling power for longer runs, offering 12,000 lbs. of pulling force.
A lightweight CableGlider LW accommodates both vertical and horizontal pulling applications. A pivoting arm also allows the CableGlider LW to work with a range of jobsite conditions. The one-speed motor and gearbox provide up to 3,000 pounds of pulling force and a maximum pulling speed of 30 fpm.
Condux International