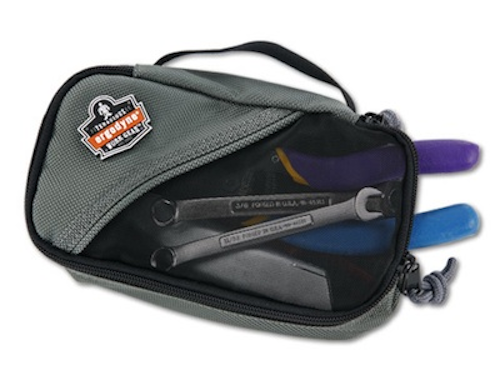 St. Paul, Minn.— Ergodyne has announced a line expansion to their Arsenal Equipment Storage System: Tool Bag series, including seven new Arsenal Lil' Buddies. For the ultimate toolkit, employ these organizing vessels to keep all wrenches, drivers, socket sets, pliers, and bits in one... two... or all seven of the new Lil' Buddies. Specifically, the product launch includes:
• Arsenal 5875 Large Clamshell Organizer,
• Arsenal 5876 Small Clamshell Organizer,
• Arsenal 5881 Large Zipper Top Organizer,
• Arsenal 5882 Small Zipper Top Organizer,
• Arsenal 5889 Mini Duffel Tool Organizer,
• Arsenal 5895 Tall Clear Zipper Bag, and
• Arsenal 5896 Short Clear Zipper Bag.

Why carry 50 tools when a kit of 10 is all you need for a specific task? Workers will benefit from this increased level of organization by lightening up their loads and only carrying the task requirements—instead of a heavy tool bag loaded with
every tool they own.

Ideal for anyone looking to drive efficiency and productivity on the jobsite, the Arsenal Lil' Buddies are available now at all authorized Ergodyne distributors.