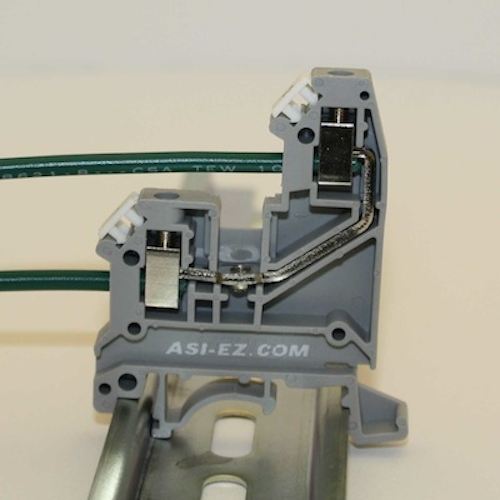 Mechanicsburg, Pa.—Automation Systems Interconnect Inc. has announced the introduction of a new terminal block product that has both wiring points on the same side of the terminal block, the ASIUK5RETURN.

The new ASIUK5RETURN can be mounted almost directly up against the side of the panel or equipment wall thereby allowing for better utilization of space for other components in the system. Another option is to mount the ASIUK5RETURN in a double row configuration with the backs of the terminal blocks against each other which gives the customer the ability to have a considerable amount of wiring in a small amount of space. With this non-traditional design, the customer can now consider these and many other ways of laying a wiring panel that will best suit the application and make maximum use of the space allotted for wiring and other components.

The ASIUK5RETURN is 6.2mm wide and has a rating of 30 amps at 300 volts with a wiring capacity of 30 to 10 AWG. Numerous accessories are available such as bridges to connect adjacent terminal blocks and a wide variety of standard, custom and colored markers. The housing of the ASIUK5RETURN is molded with a UL94V0 material and the metal bodies are a nickel-plated copper alloy to ensure quality and reliability in all conditions.