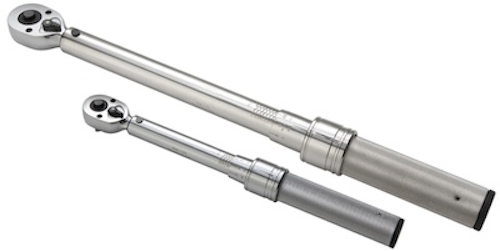 It's estimated that 90 percent of electrical failures occur at connections, so the importance of correct installation is clear. Applying the correct torque value to the connection ensures the safety and long-term integrity of the electrical system. The only way to deliver a reliable, repeatable torque to the connector is through the use of a calibrated torque tool. BURNDY, a manufacturer of connectors and tooling to the electrical distribution industry, announces the introduction of their line of Micro-adjustable Ratcheting Torque Wrenches.

The BTW30150 and BTW150750 are professional grade torque wrenches enabling customers to reliably terminate the complete line of BURNDY mechanical compression connectors to their recommended installation torque. BURNDY torque wrenches are easy to operate, durable and backed by BURNDY quality and engineering expertise. All wrenches have easy-to-read precision laser marked scales in torque values which correspond to the BURNDY connector recommendations. The BTW30150 and BTW150750 are calibrated for use in both directions for ease of application use. To set the desired torque, simply pull down the lock ring and turn the handle to the desired torque setting. Once set, the positive locking device locks in the torque setting. When the desired torque is reached, an impulse can be felt through the handle along with an audible "click." In addition, the wrenches feature a "Quick Release" push button that both locks the fastener in place and makes changes quick and easy.

Each torque wrench is provided with a custom plastic case to protect the tool when not in use. All wrenches come with an Operation Manual and Certificate of Calibration traceable to the National Institute of Standards and Technology (N.I.S.T.), are serialized and meet or exceed ASME B107.14M-1994, ISO 6789 Standards.

The BTW30150 and BTW150750 torque wrenches are an integral part of the BURNDY Engineered System. These tools, when used in conjunction with the recommended installation torque on UL Listed/CSA Certified mechanical connectors, ensure a reliable, repeatable installation method.

For more information about BURNDY or othe ratcheting torque wrenches, click here to go to Utility Products' Buyers Guide.