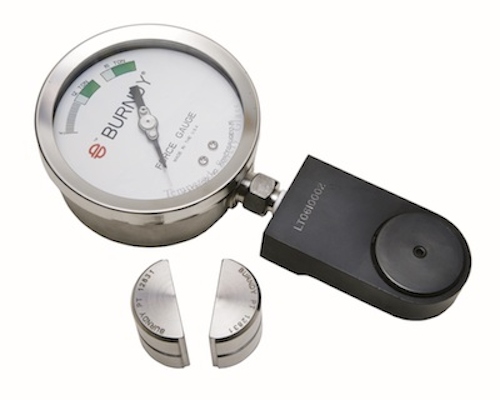 Manchester, N.H.—BURNDY, a manufacturer and provider of electrical connector solutions and application tooling, announces a force gauge designed to assure that their BURNDY 12 or 15 ton tool is supplying sufficient force to crimp connectors properly.

A precision, self-contained load cell converts the tool's output force into a pointer motion on a calibrated dial. With two different green ranges it is easy to identify that the correct output force for either a 12 or 15 ton tool is obtained. Specifically designed for the BURNDY PATRIOT PAT46 and PAT750 family of tools, the FORCEGAUGE12 can also be used with the Y750 and Y35 self-contained family of tools. Supplied with two blank "U" dies, force test gauge and operating instructions in a molded carry case.

BURNDY is committed to providing consistent excellence in quality, reliability, and service to the electrical industry, in the safest possible manner, at a competitive cost and to the highest possible standards.

For more information on BURNDY or other test gauges, click here to go to Utility Products' Buyers
Guide.