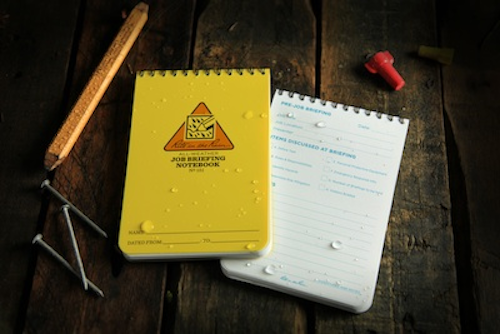 Tacoma, Wash.—The J.L. Darling Corp, manufacturers of Rite in the Rain all-weather writing paper, has released a new line of pocket notebooks specifically created for use in the utility, electrical and construction industries.

Rite in the Rain is a patented, environmentally responsible, all-weather writing paper that sheds not only rain, as the name implies, but also sweat and humidity. Rite in the Rain is able to provide people around the world with an effective means with which to write, protect and keep valuable information when working in the outdoors.

OSHA suggests proper preparation as the best prevention for workplace injuries. Rite in the Rain aids in that preparation by ensuring important documentation survives the rigors of the field.

The new line of books includes a Job Hazard Analysis Notebook, Job Briefing Notebook and a Daily Log. All of these all-weather notebooks are conveniently sized and tough enough to keep on hand throughout the workday.

Rite in the Rain has been creating "outdoor writing products for outdoor writing people" for decades. These new job safety notebooks nicely compliment our other popular all-weather products, which include shirt pocket notebooks, copier paper, field books, loose leaf, grid sheets and all-weather pens. Custom printing is also available.
For more information on J.L. Darling or other pocket notebooks, click here to go to Utility Products' Buyers Guide.