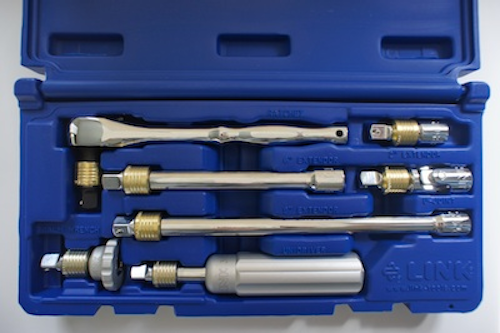 Chicago—LINK Tools International introduces two new Professional Upgrade Sets featuring their new all-metal Locker ratchets with built-in tether hole. These sets are designed to completely eliminate the possibility of a dropped tool or a tool left behind.

The Locker ratchet tethers to the tool operator, who can then connect any number of LINK-Locking drive tools and the operator's existing socket or socket-mounted accessory to create a custom tool that allows for easy positioning, safety and security. No matter how many tools are connected together, they function as a single tool securely fastened from the user's body to the work.

The Locker ratchet tethers are for mechanics and technicians who work around expensive equipment that could be damaged from a dropped tool; those who work at heights such as tower workers, steelworkers and roofers; aviation technicians who not only want to eliminate another source of FOD but also want to save the time wasted in retrieving dropped sockets; power plant FME programs; marine construction and maintenance; and any workplace where a dropped tool puts workers or equipment at risk.

The new Locker Upgrade Sets consist of seven drive tools that all automatically lock together with a simple push-on: ratchet, universal joint, three extensions, Unidriver and palm wrench/speeder, all compatible with standardized sockets and accessories. Simply adding these compact sets to an existing toolbox vastly increases safety and efficiency in the workplace as exemplified by a 90-day user test at an Army Aviation training facility that found an overall 40 percent risk reduction when conventional tools were replaced with LINK locking tools.