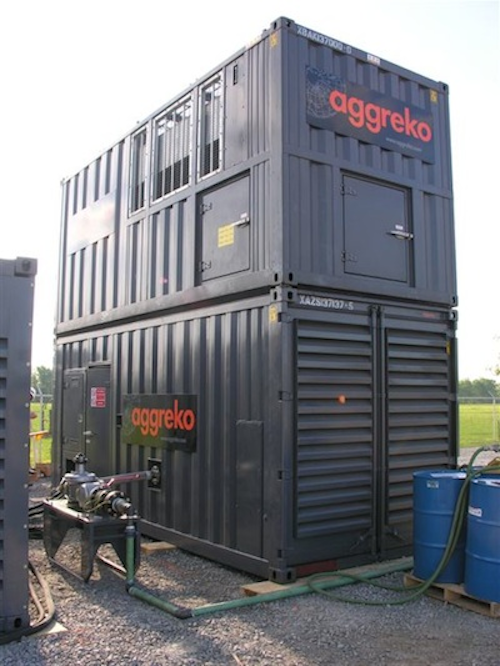 Houston—Aggreko, a rental power, temperature control and oil-free compressed air solutions company, has introduced a new 1300 kW natural gas model generator into its fleet, adding a new option for companies needing quick and effective short-term power generation. This model features the new Cummins QSK60 gas engine, the latest in emissions-control engine technology within the temporary utility market. It joins Aggreko's fleet of low-emission natural gas reciprocating generators, which ranges from 65 kW to 1300 kW (1625 kVA). When used for long-term, continuous operation, natural gas units have been shown to offer cost savings of 40-45 per cent compared to diesel units, primarily due to savings in fuel.

The new Aggreko 1300 kW model includes some of the most advanced environmental technologies available, including noise reduction for extremely quiet operation, smokeless output and a save-all containment base that reduces the risk of fluid leakage. The units are EPA-compliant, delivering proven and time-tested "Lean-burn" gas technology, and meeting the most demanding federal and state emissions guidelines in the U.S. The new V-16 (16-cylinder) gas engine has turbo-charging and low temperature after-cooling, ensuring efficient performance. Units can also be scaled up or down, allowing capacity to change with demand.

The modular design, standardized in 20-ft ISO containers, allows for easy transportation and flexible installation. Aggreko's packaged control technology allows units to be set up in parallel in a matter of minutes, and the on-board synchronizing gear allows the generator to be automatically integrated into the grid, minimizing disruptions and fluctuations in power. Units also feature an EPA-approved paint color designed to blend better with the surrounding landscape. These machines provide a fast, economical, temporary power solution for remote generation facilities, without the need for large-scale capital expenditure.