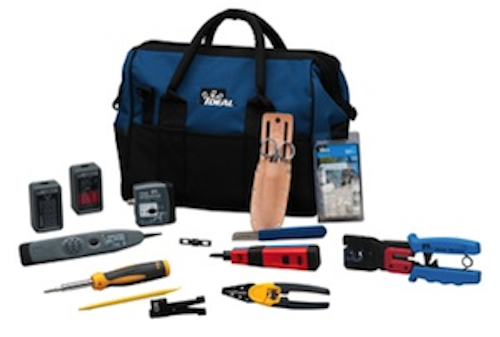 Sycamore, Ill.—IDEAL has introduced its Master Series Network Service Kit to cost-effectively meet the needs of contractors for a complete set of professional-level tools to install and repair the twisted pair cable deployed in data communication networks.

Any facility with a LAN or enterprise would benefit from the Master Series kit. In addition to hand tools used in cutting, stripping and terminating Ethernet cabling, the kit contains troubleshooting test equipment to help contractors wiremap and trace the networks they maintain, uncovering opens, shorts, split pairs, reversals or miswires.

Not only does the kit contain the tools needed to get routine MAC tasks done, but it also will handle the bigger jobs in record time. Fully loaded, the kit contains: Ratchet Telemaster crimper, Punchmaster punch down tool, Probe pick and spudger Coaxial stripper, cable splicing kit, LinkMaster tester, 7-in-1 Twist-a-Nut screwdriver, Tone generator and amplifier probe kit, Smart6 modular tester and other supplies stored within a large mouth bag with easy access to tools.

The IDEAL master Series Network Service Kit is immediately available.
For more information about IDEAL or other service kits, click here to go to Utility Products' Buyers Guide.