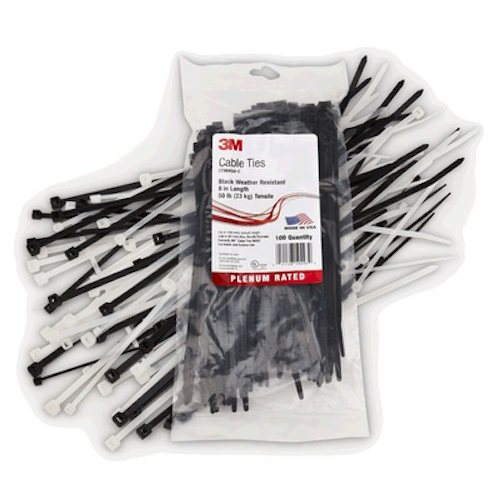 Austin, Texas—In response to growing customer demand, 3M recently upgraded its existing cable tie portfolio with new products that are plenum rated and UL listed as well as manufactured in the United States.

The plenum rating means that the cable ties meet standards for products used in air handling spaces, including the space above a suspended ceiling or below a raised floor that does not have closed air ducts for the HVAC system to transport air. A plenum rating is required for applications where cable will run in building air space. Because these spaces allow fire and smoke to travel quickly, In the case of fire, plenum-rated material emits smoke with lower levels of toxicity.

3M upgraded the cable tie portfolio without increasing the price. The new and improved cable ties from 3M will be available at the same price as the previous cable ties that did not feature a plenum rating or UL listing.

Used to securer wire bundles and harness components quickly, the flexible design of 3M Cable Ties allows the ties to easily slip under and around cables and harnesses. 3M Cable Ties can be used with most standard tensioning/cutoff tools for fast production line fastening. Molded from 6/6 nylon, 3M Cable Ties are designed to function reliably in a wide range of temperatures from 32F to 185F. These ties are offered in wide range of sizes and tensile strengths meeting the needs of virtually all electrical construction applications.

Available in a variety of sizes and styles, including UV, weather-resistant black nylon for outdoor use, all cable ties—with the exception of the 48-inch ties—are also UL Listed for indoor use in air handling spaces (NEC 300-22 C/D) and tested to UL standard 62275 for wire positioning devices. The 48-inch cable ties are UL recognized. In addition, the 36- and 48-inch cable ties are UL listed 181B-C mechanical fasteners for use with UL non-metallic air ducts and air connectors.
For more information about 3M or other cable ties, click here to go to Utility Products' Buyers Guide.