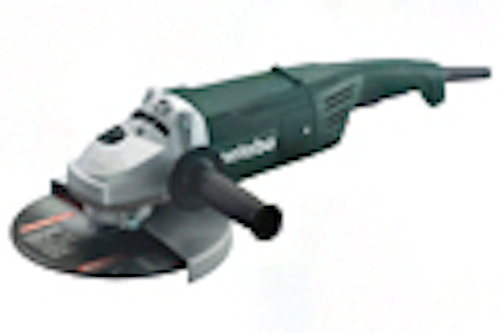 West Chester, Pa.—Metabo Corp., a manufacturer of professional grade portable electric power tools and abrasives for industrial, construction and welding applications, now offers the W2000 7" angle grinder. This new large angle grinder delivers 2,000 watts of power, making it ideal for cutting, grinding and sanding applications where tool weight and ease of handling are critical.

The W2000 is equipped with a 7" wheel guard and features a powerful 15 A motor, 89 inch-lbs of torque and a no-load speed of 8,500 rpm. As with all Metabo tools, the grinder incorporates advanced ergonomic design principles to provide the most comfortable operating environment, combined with best-in-class performance in a lighter package.

The W2000 includes Metabo's simplified on/off switch configuration with a safety lock to prevent the tool from accidentally turning on, a burst-proof guard and spindle lock. A three-position side handle allows users to turn the tool 90 degrees to cut vertically, while still having a firm grasp on the grinder. Auto-stop carbon brushes help to increase the tool's service life.

Optional equipment for the W2000 includes a wide range of Metabo abrasives, adapter kits to mount Type 1 and Type 27 non-hubbed wheels, a dustless convertible shroud for concrete surfacing, a Type1 cut-off wheel guard and a carrying case.

For more information about Metabo or other power tools, click here to go to Utility Products' Buyers Guide.