AEP-2000 Series pure sine wave inverters
Schaefer introduces the AEP-5000 Series of 5000W, rugged, high efficiency, pure sine wave inverters.  


Dec 14th, 2011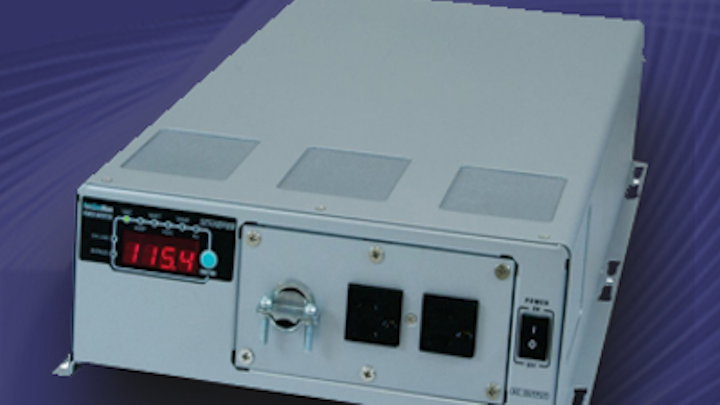 Schaefer Inc. introduces the AEP-5000 Series of 5000W, rugged, high efficiency, pure sine wave inverters. The "clean" pure sine wave output of the AEP-5000 Series, with less than 3 percent total harmonic distortion, is ideal for powering sensitive loads and for improving AC equipment performance.

The AEP-5000 Series is available in four standard input configurations of 24VDC, 48VDC, and the less frequently found 110VDC or 220VDC input voltages. Outputs are available in regulated 115VAC or 230VAC (50/60Hz) versions.

All models in the AEP-5000 Series feature a wide operating temperature of -30C to +50C, comprehensive protection circuitry, and a digital display to monitor/indicate low input voltage, short circuit, input overvoltage, over temperature, overload and low battery. The display also indicates voltage, amperage, power and temperature. Efficiency is up to 94 percent, depending upon the model selected. EMI is minimized to Class B standards for reduced impact on other equipment.

The design is rugged and ideal for utility, vehicle/mobile, industrial, military, rail/transit, satellite, computer, marine and general backup power applications. The compact module size of 5.5" x 12.75" x 19.5" (h x w x d) provides 5000W of power, while still accommodating space constrained installations. A simple mounting scheme and high reliability lend to the low cost of ownership.

The AEP-5000 Series is part of the full line of rugged, pure sine wave inverters from Schaefer, which includes stand alone solutions from 700W-5000W and rack mount configurations. Modifications to standard products are available upon request. In addition, Schaefer can design and manufacture full custom solutions. Delivery is stock to 8 weeks ARO.

For more information about Schaefer or other sine wave inverters, click here to go to Utility Products' Buyers Guide.