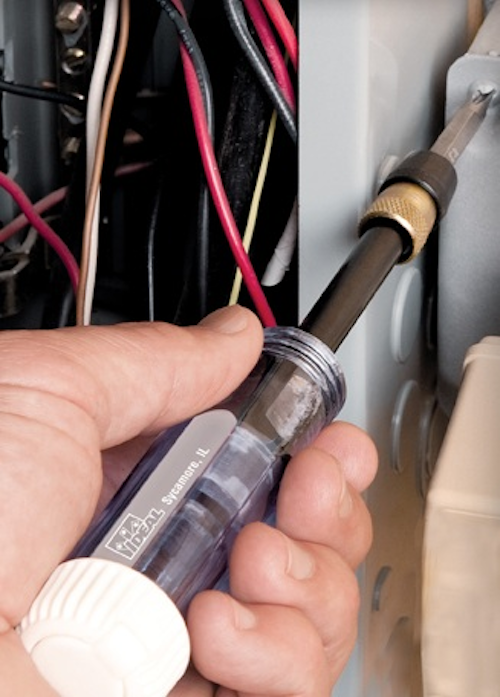 Sycamore, Ill.—Multi-bit screwdrivers provide a wide range of fastening solutions in one simple tool. However, most designs depend upon unreliable magnetics to hold bits in place, resulting in dropped or lost bits, as well as metal debris being drawn inside the socket, further compromising holding power.

To combat this problem, IDEAL introduces its new Quick Change Screwdriver with the patented Sure-Loc Quick Change chuck that eliminates magnetic debris pick-up and dropped bits. Mechanically snap into place both insert and power type bits without magnetics or requiring the user to pull back its collar. To release a bit, simply pull back the knurled collar. When empty, the socket can be used as a 1/4-inch nutdriver.

Another valuable advantage of the screwdriver is its E-Z Spin high torque cap. It rotates smoothly for precise turning and control. In addition, it has a handy flip cap that gives fast access to the built-in bit storage cavity that holds up to five extra Insert bits.

Like all IDEAL hand tools, the Quick Change Screwdriver is as durable as it is useful. The driver shaft has been coated in black oxide for superior corrosion resistance, and heat treated for optimum strength. Its ergonomic handle features rugged cellulose acetate that increases durability while reducing slippage.

The IDEAL Quick Change Screwdriver Set (#35-933) includes a bit block containing 32 of the most commonly used tamper-proof bits. The block (#35-933TP) is also sold separately, as is a 32 piece standard bit block (#35-933STD), containing the IDEAL exclusive Combo Head bit.

For more information about IDEAL or other multi-bit screwdriver information, click here to go to Utility Products' Buyers Guide.