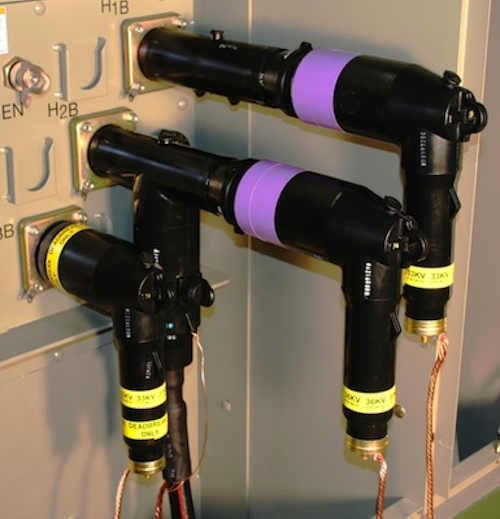 Waukesha, Wis.—The new Cooper Power Systems 33 kV and 36 kV M.O.V.E. arresters are cited to provide the highest level of temporary overvoltage (TOV) protection available to underground collector systems in wind and solar applications against lightning and other surges. Ungrounded Delta collector systems can experience high levels of TOV, often up to 173 percent over normal grounded system voltage. The high TOV characteristics of the M.O.V.E. arrester enable it to survive and continue to protect. This increases the reliability of the entire underground system.

Cooper Power Systems offers both the 33kV and 36 kV units in standard and DirectConnect configurations, allowing the user to choose the right elbow arrester for each specific application.

The DirectConnect M.O.V.E. arrester installs directly onto a 600A 35 kV bushing, replacing three components with one. This specific design, results in a 50 percent shorter stacking height, reduces clutter in the cabinet, and allows more generous fitting of cable accessories into small enclosures. This design saves material costs, and, based on time studies, reduces installation time by 80 percent.

The expanded M.O.V.E. arrester product line now ranges from 18 kV up to 36 kV.

For durability, each arrester features MOV disks that are rigidly bonded into a single stack that eliminates air pockets, moisture, and pinched rubber between the disks that could compromise the current path and overheat the assembly. The MOV stacks are also buffed smooth for corona-free performance and improved reliability.

For more information about Cooper Power Systems or other arrester information, click here to go to Utility Products' Buyers Guide.